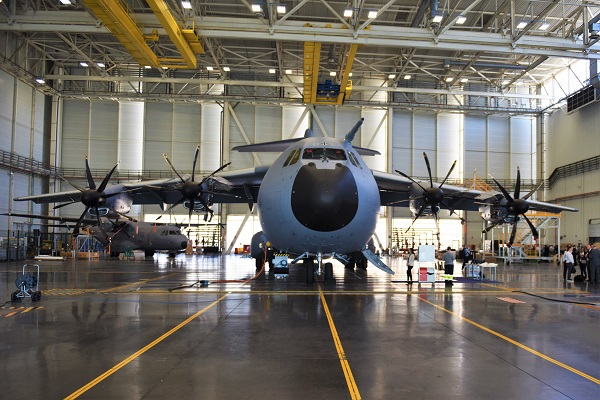 Airbus A400M; Credit: EMA
On 30 April 2019, a Belgian-Luxembourg delegation travelled to Seville, Spain, to visit the Airbus assembly plant to inspect the final assembly of the A400M aircraft ordered for the Luxembourg army.
The Belgian Minister of Defence, Didier Reynders, accompanied by the Belgian-Luxembourg delegation, had the opportunity to visit the Airbus installations in Seville and to witness the fusion of the hull and cockpit part of the first A400M NSN 104 Belgian-Luxembourgish collaboration.
The A400M transport aircraft
On 13 June 2001, Luxembourg and Belgium signed a co-operation arrangement for the acquisition and joint operation of a A400M strategic aircraft. Belgium and Luxembourg have committed to acquire 8 A400M transport aircraft, of which 7 are for Belgium and 1 for Luxembourg.
This new strategic lift capability aircraft can be used to support military operations, crisis management missions and humanitarian assistance. Belgium will provide implementation, logistical support, joint training of crews and future modifications of the aircraft and support equipment.
Luxembourg will provide 3 crews, which equates to six pilots (officers) and six NCOs. In addition, a Luxembourg officer has been integrated into the operational staff of the Belgian Air Component since 2017 to monitor the implementation of the A400M project.
The assembly of the A400M Luxembourg will be completed in 2020 and the aircraft will be operational from the beginning of 2021. The period between final assembly and operation will be used by staff to familiarise themselves with this new capacity and with all the different procedures and specificities.