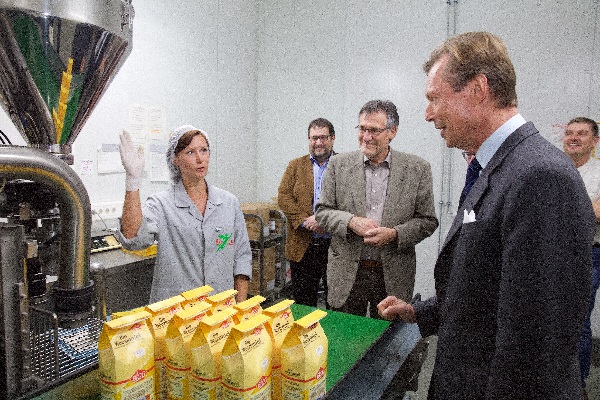 Credit: ©Luxpress/Oikopolis
The end of October saw His Royal Highness the Grand Duke of Luxembourg visit the Oikopolis organic farming centre in Munsbach.
HRH the Grand Duke recently undertook a private visit of the Oikopolis centre, the central location of the Luxembourg Oikopolis group which emerged from the organic farming cooperative Lëtzebuerg (BIOG) founded in 1988. The Luxembourg monarch was accompanied on this occasion by Minister of Agriculture, Viticulture and Consumer Protection Fernand Etgen and a small delegation from his ministry.
The visitors had the opportunity to take a look behind the scenes of several cooperating companies, which represent a large part of the value-added chain based on farmer production: from the transport, packaging and storage of fruits via their processing to the ready-to-cook (semi-) finished product and finally for specialised retail as well as organic catering.
Tom Kass, Chairman of the Supervisory Board of Oikopolis, Marc Emering, President of the BIOG Cooperative, and Mr Schanck, Chairman of the Board of Oikopolis Participations SA welcomed the delegation, with Tom Kass particularly outlining the advantages which a network of cooperating sales structures can offer to small and family farms and businesses.