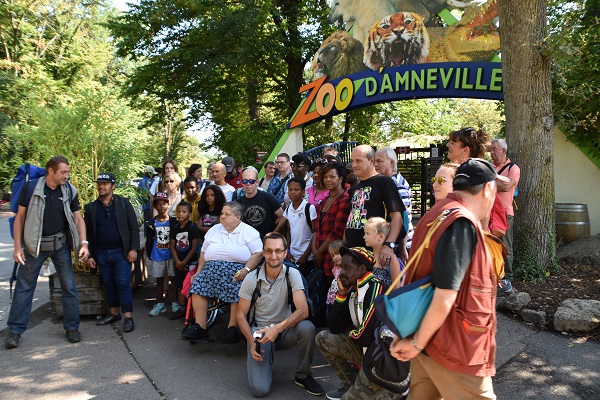 Stemm vur der Strooss to Amneville Zoo;
$On Thursday 2 August 2018, as for the past 19 years, Stëmm vun der Strooss organised its traditional summer outing, this year visiting Amneville Zoo across the border in France, with 90 people paerticipating in the recreational event that started at 08:30 and concluded at 17:00.
The group included many children and persons with reduced mobility who travelled on three buses; they had each been provided with a lunch package including food and beverages, and were accompanied by seven social workers led by Stëmm vun der Strooss Director, Alexandra Oxacelay. At the same time, a group of 60 disadvantaged people met at Esch-sur-Alzette to visit the Han caves in the Ardennes.
The journey to Amneville was the first visit of a zoo for the majority of those present. The bus arrived at the zoo shortly after 10:00 and everyone received a printed map for them to be able to find their way around and to meet up for the return to Luxembourg at the end of the day.
The sun shone all day long as the groups discovered the wonders of the 17 hectares of the zoological gardens, including the worlds of the big cats, birds of prey and gorillas, reptiles, vivarium turtles, parrots and wolves. Many of the group attended a show involving eight tigers.
After lunch, the group met up at the Sarawak restaurant for drinks and ice creams, and shared their experiences.
Amina, who made the trip with four children, was delighted; she was amazed at the elephant grooming. Her favourite moment was the one with the tigers, even though she confessed having preferred the highest places in order not to be too close to the cats.
Benoit had a good time but regretted not being able to see everything. He is a regular of the Stëmm and considers these trips as a vacation in the face of the hardness of everyday life on the street: "Besides having a pleasant time, the zoo allows us to learn more about animals from the five continents that share this space. And you need several visits to get to the end of this giant zoo".
Some left with souvenir pictures and trinkets, with other leaving with their eyes still wide open with amazement, having experienced a wonderful moment away from the difficult conditions of their everyday life.