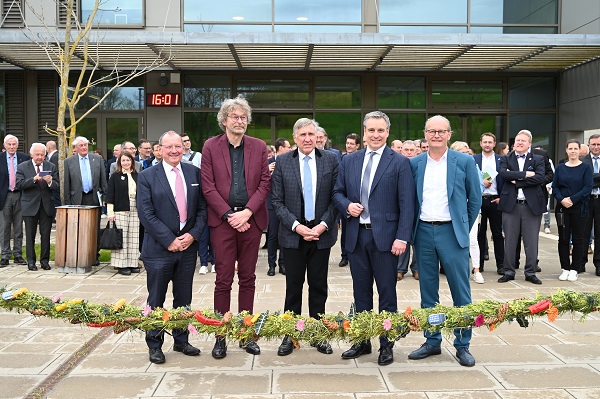 (L-R) Fernand Etgen, Chamber of Deputies President; Tom Delles, LTA Director; François Bausch, Deputy PM, Minister of Mobility & Public Works; Claude Meisch, Minister of Education, Children & Youth; Claude Turmes, Minister for Energy & Spatial Planning; Credit: MMTP
Friday 5 May 2023 saw the inauguration of a new agricultural technical secondary school, the Lycée Technique Agricole (LTA), in Gilsdorf, in north-eastern Luxembourg.
The inauguration took place in the presence of Luxembourg's Deputy Prime Minister and Minister of Mobility and Public Works, François Bausch, the Minister of Education, Children and Youth, Claude Meisch, and the Director of LTA, Tom Delles.
Located in the municipality of Bettendorf, the school campus is now served by a new access from the N14 national road linking the localities of Diekirch and Stegen.
Covering a total area of some 15 ha, the school is made up of several buildings grouped together and partially connected to each other.
According to Luxembourg's Ministry of Mobility and Public Works and the Ministry of Education, Children and Youth, particular attention was paid to the planning of the school's outdoor spaces, in order to meet the educational needs of green professions. The surroundings of the LTA include landscaped outdoor areas of around 13 ha. Similarly, the site includes what the ministries described as an "ecological" car park with trees, with spaces for about 100 vehicles, as well as spaces for about 50 bicycles.
In the interest of using renewable energies, 2,925 photovoltaic panels have been installed on most of the roofs. The ministries confirmed that the LTA directly uses the electricity produced. Regarding heat production, two woodchip boilers which also allow the combustion of green waste, in combination with a heat pump recovering a large part of the excess solar gains from the greenhouses, have been installed.
The estimated cost of this project is €115,000,000 (including tax). The commissioning of the building took place in September 2021.