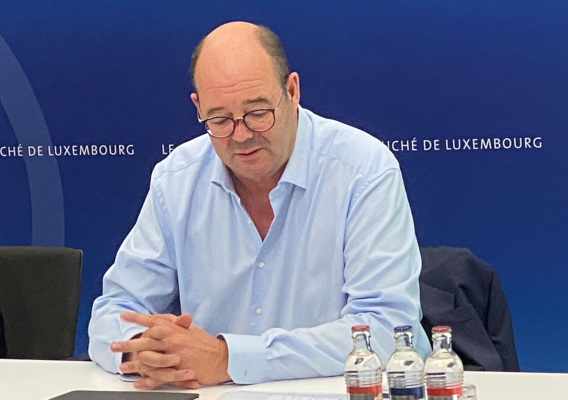 Claude Haagen, Minister of Agriculture, Viticulture and Rural Development; Credit: MA
Following an initial exchange on Tuesday 22 March 2022 on the rise in energy and fertiliser prices and the increase in world cereal prices, in particular livestock feed, Luxembourg's Minister of Agriculture, Viticulture and Rural Development, Claude Haagen, had a second consultation meeting on Monday 30 May 2022 with representatives of the cereal sector to once again take stock of the current development of the market for cereals, animal feed, seeds and fertilisers.
During this second round, an in-depth analysis of the market situation showed that the crisis in Ukraine continues to have a considerable impact on the entire national sector:
energy prices: despite a continuous rise, the surge in energy prices has not continued on its initial trajectory.
synthetic fertiliser: prices are currently down slightly knowing that demand is not as great as in early spring (main period for crop fertilisation).
world prices of cereals and in particular animal feed: the prices of cereals and oilseeds with their cakes have no longer continued the initial surge and are currently fluctuating at a very high price level knowing that Ukraine was a major supplier of the European Union.
prices of agricultural products: the prices of animals and animal products are considerably on the rise, allowing farmers to at least partially cover the additional costs of inputs.
seed availability: despite the crisis, sowing for cover crops as well as autumn sowing does not seem to be in danger at this stage, knowing that the necessary quantity is currently available provided that the weather conditions do not deteriorate.
In this context, Minister Haagen supported the European Council's condemnation of the destruction and illegal appropriation by Russia of agricultural production in Ukraine and to ask Russia to end the blockade of Ukrainian ports on the Black Sea in order to allow the export of grains and cereals. In this context, Minister Haagen also supports the European Commission's action plan to create "solidarity corridors" to help Ukraine export its agricultural products and import the goods the country needs.
Minister Haagen also explained to representatives of the cereal sector the various aids provided for in the package of measures presented on 20 May 2022 in order to preserve the economic and social resilience of national agricultural sectors (https://agriculture.public.lu/de/actualites/2022/mai-2022/crise-ukraine-mesures-soutenir-secteur-agricole.html).
As the situation on the agricultural markets is still extremely volatile because of this war, Minister Haagen specified that it is necessary to remain vigilant. Minister Haagen will therefore continue his dialogue with the agricultural sector and with the agri-food processing sector in order to be able to react quickly if necessary.