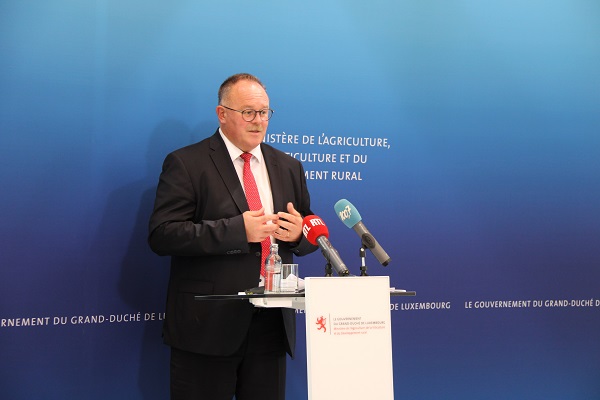 Romain Schneider, Luxembourg's Minister of Agriculture, Viticulture and Rural Development; Credit: MA
Luxembourg's Ministry of Agriculture, Viticulture and Rural Development has presented the results of a TNS Ilres study on purchasing behaviour during the COVID-19 pandemic.
Ahead of the Ettelbruck Agricultural Fair, and with the work of the agricultural season in full swing, Romain Schneider, Luxembourg's Minister of Agriculture, Viticulture and Rural Development, presented the results of this study alongside Tommy Klein, Client Service Director at TNS Ilres.
The results of the study revealed that four out of ten consumers have changed their purchasing habits by favouring food products produced in Luxembourg. Three out of ten added that they planned to keep these new habits.
The study also showed that the origin, and especially the fact that the product is of regional origin, is a criterion that has gained importance in recent months. For a large majority of households, one of the main reasons for buying regional products is to be able to support Luxembourg producers in this way.
The health crisis has therefore generated awareness of the importance of the food chain. Luxembourg's Agriculture Minister expressed his delight at this outpouring of solidarity from consumers towards Luxembourg producers.
An increasing number of consumers were found to be making more responsible choices by opting more often for regional products, a guarantee of quality in their eyes. In fact, 93% of households considered Luxembourg agricultural products to be of good quality.
67% of resident households said they were ready to pay more for products from Luxembourg regional agriculture, provided that they are easily accessible, quality products from sustainable agriculture.
This study clearly showed that the health crisis has caused values ​​to change, with consumers paying much more attention to values ​​such as solidarity, regionality, quality and sustainability.
"The consumer, through his purchasing decision, influences the offer. The consumer is therefore becoming more and more a 'consum'actor' attentive to the quality of what he / she eats", stressed Minister Romain Schneider, while recalling that part of the economic recovery package is precisely intended to promote the purchase of regional products from Luxembourg agriculture and viticulture.
The Agriculture Minister also recalled that the bill relating to the approval of a quality system or certification of agricultural products is fully in line with this promotion strategy. This instrument is aimed at bringing more visibility to Luxembourg agricultural products and thus allowing consumers to make a responsible choice when shopping.
However, the TNS Ilres study revealed that 84% of households wish to receive more information on regional products.
In order to better meet these expectations, the Ministry of Agriculture, Viticulture and Rural Development has stepped up its awareness and promotion campaigns for local producers and set up various tools such as the bio2025.lu website (available in English, German and French), as well as the brand new regionalsaisonal.lu platform which is available in four languages (English, Luxembourgish, German and French). The latter includes practical sections such as information on regional, organic and seasonal products, a presentation of farmers and producers, a seasonal calendar and even recipes based on local products.
Luxembourg's Agriculture Minister emphasised the need to consolidate this promotional approach in order to raise consumer awareness of the quality of local products and to strengthen the social link between producers and consumers.