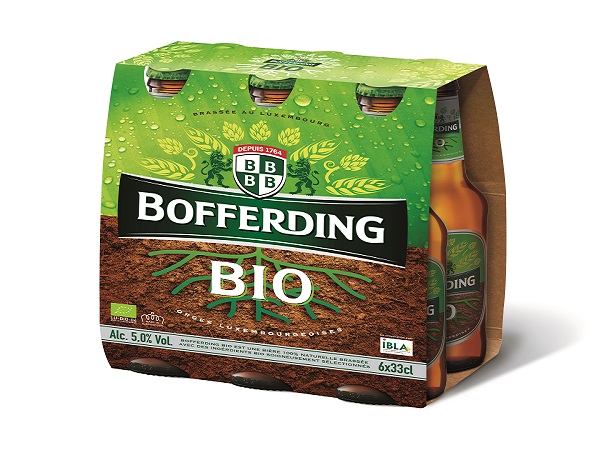 The Brasserie Nationale, also known as Bofferding Brewery, presented today its latest product, Bofferding Bio, during a virtual press conference.
For its latest innovation, Bofferding has bottled the best of Luxembourg: an organic and local beer, from raw material to the brewing process.
The beer has been developped as part of the brewery's ongoing partnership with the IBLA (Institut fir Biologësch Landwirtschaft an Agrarkulturafin) to promote the organic malting barley subsidiary in Luxembourg. The programme aims to extend short circuits and benefit as many people as possible.
In Bascharage, the master brewers created Bofferding Bio from these organic Luxembourg barley, all the while respecting tradition. The result is an easy-drinking Pale Lager type lager with a slightly hoppy taste with hints of grain. Its golden colour reveals a delicate balance between sweetness and freshness.
The packaging design also fits with this message and the company's history: freshness and organic roots from Luxembourg soil. To follow through on its ideas, the brand chose to develop this design with a 100% local agency, Binsfeld in Luxembourg. The design and marketing has been described as simple but elegant, opting for the slogan "De BIO vun hei" (organic from here) which reflects the company's slogan "De Béier vun hei" (beer from here).
Initially, Bofferding Bio will be available from 8 June exclusively at Cactus, then from 15 June 2020 in all other supermarkets in the country as well as in Horeca outlets. Various discounts are expected for this week's launch.
In the Q&A session with the press that followed, the Brewery's management explained that the beer is available in bottles in a first phase but will eventually be available as draft beer. They added that the initial focus is on a Pilz and future product additions will depend on the rapidly evolving organic market, which is developing very rapidly. They hope that the new organic beer will take 10% of the market.