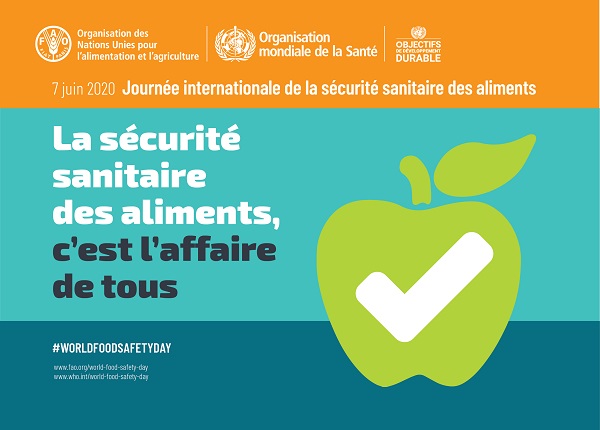 Luxembourg's Ministry of Consumer Protection has announced a general pub quiz for World Food Safety Day, taking place this Sunday 7 June 2020.
This Sunday marks the second edition of World Food Safety Day, as declared by the General Assembly of the United Nations (UN) in December 2018. This annual event which saw its inauguration in 2019 is intended to draw attention to the subject of food security and emphasise that everyone involved in food systems has a role to play in preventing, detecting and managing food-related hazards.
At the European level, the various links in the food chain have been strengthened since the early 2000s and have thus contributed to the creation within the European Union (EU) of one of the highest food safety standards worldwide. Thus, the European Food Safety Authority (EFSA) in charge of drawing up scientific opinions and reports is explicitly based on the concept of health for all. The European Commission's new "farm to fork" strategy proposed in the framework of the "Green Deal" also highlights the importance of the multiple links and responsibilities between stakeholders in the food systems, in particular to guarantee healthy and fair food, which respects the environment.
At the national level, food security control is coordinated by the Luxembourg government's Commissariat for Quality, Fraud and Food Security. The Food Safety portal informs and educates both producers and consumers about news related to food safety. Consumers and professionals also have the possibility of subscribing to a newsletter relating to product recalls and warnings on the undeclared presence of allergens so that they can have access in real time to all relevant information.
Indeed, the results of the 2019 Eurobarometer analysing Europeans' concerns about food have shown that two out of five European citizens have changed their consumption method at least once in their life following information concerning food security. These conclusions therefore support the importance of maintaining regular consumer awareness.
To celebrate World Food Safety Day 2020 and transmit the key messages of food security while aligning with the context of the current pandemic, the Commissariat for Quality, Fraud and Food Security together with Luxembourgs' Ministry of Consumer Protection have decided to offer a new solution consisting of a fun and informative general public quiz. The quiz is available from 3 to 14 June 2020 on www.secheriessen.lu as well as via the Facebook account of the Ministry of Consumer Protection and gives participants the opportunity to test their knowledge in this area while becoming familiar with ways of ensuring food security themselves in relation to their diet.
Fridge cooler bags and food safety gadgets, as well as three jackpots with regional products, will be distributed among the quiz winners. Prizes will be determined by drawing lots.