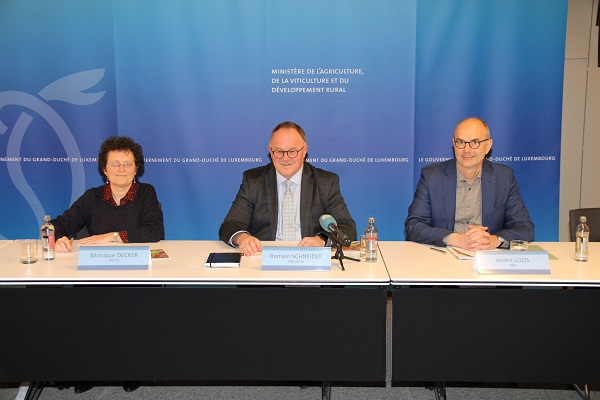 L-R: Monique Decker, ASTA Plant Protection Service; Romain Schneider, Minister of Agriculture, Viticulture and Rural Development; André Loos, advisor at Ministry of Agriculture, Viticulture and Rural Development; Credit: MA
On Friday, Luxembourg's Ministry of Agriculture, Viticulture and Rural Development presented the details of "PAN-Bio 2025", the national action plan to promote organic farming.
As announced last year, PAN-Bio 2025 aims for 20% of the Luxembourg agricultural sector to be organic farming by 2025. While the European average is around 7%, the share of organic farming in Luxembourg currently represents only 5% of the agricultural area exploited. Currently, Luxembourg has a total of 148 organic producers (around 6.5% of the country's agricultural holdings), including 88 farmers, 15 market gardeners, 15 winegrowers, 11 fruit growers and 19 beekeepers, as well as 164 other operators such as processors, distributors, outlets and importers.
Although the supply of local organic products has grown significantly over the past two decades, fruit and vegetable cultivation has only weakly developed and many of the key foods needed to make meals are lacking nationally. The current government (in its 2018-23 programme) therefore decided to intensify efforts to develop the organic sector in Luxembourg through a new biological action plan: PAN-Bio 2025.
PAN-Bio 2025 aims to actively support the development and promotion of national organic farming in order to further balance supply and demand. This action plan contains a panoply of tools, the objectives of which fall into four main areas: drawing up the current inventory of the organic farming sector in Luxembourg; increasing the visibility of the organic farming sector among different groups of the population; increasing the attractiveness of the organic production method for producers; and developing and structuring the various production, processing, distribution and marketing sectors in order to increase production and demand.
In this context, Luxembourg's Minister of Agriculture, Viticulture and Rural Development, Romain Schneider, has stressed that PAN-Bio 2025 is an ambitious plan which will strengthen existing measures and will be supplemented by new instruments. He added that this action plan will also benefit from appropriate financial means. Indeed, the budget allowance will gradually increase from the current €2 million to €11.4 for the year 2025 in order to reach the 20% target.
Minister Schneider also highlighted the participative and innovate nature as well as the relevance of PAN-Bio 2025. Indeed, following an orientation debate in the Chamber of Deputies, based on the "World Café" methodology, all the interlocutors of the agricultural sector as well as associations and NGOs concerned were consulted before developing the PAN-Bio 2025.
In order to increase the visibility of organic farming and ensure the follow-up of the action plan, a specific contact has been appointed within the Ministry of Agriculture, Viticulture and Rural Development. Romain Schneider explained: "With this approach we want to give a face to organic farming and establish a permanent point of contact".
In addition, the Administration of Technical Services for Agriculture (Administration des Services Techniques de l'Agriculture, ASTA) has carried out an internal restructuring to create an "organic farming" service independent from the "plant protection" service.
Another new feature of this action plan is the comprehensive reform of the advisory modules. From now on, a farmer interested in organic farming will be able to benefit from multidisciplinary advice adapted to the needs of the farm throughout the conversion phase. In addition, to increase the attractiveness of organic farming, subsidiaries will be increased appropriately in order to better support farms during this conversion phase, while ensuring an attractive premium level for existing organic farms.
Another driving force behind this plan is the introduction of products from the Luxembourgish agricultural sector in catering establishments by 2025. The government has confirmed that it intends to play a model role, starting with state-subsidised collective catering, where 50% of products will come from Luxembourg agriculture, two-fifths of which will be from organic farming and three-fifths from local agriculture with priority given to products from converted agriculture. A balance sheet will be drawn up in two years.
The Minister of Agriculture, Viticulture and Rural Development has emphasised that PAN-Bio 2025 differs from the previous action plan through its holistic approach and its foresight. In addition, an on-going evaluation of this plan, which covers the period 2020-2025, will allow adaptation if necessary.
Minister Schneider similarly recalled that the promotion of organic farming is only one element of the Luxembourg agricultural policy "Landwirtschaft+". Other elements such as cross compliance, the participation of 906 farmers in at least one agri-environmental programme and 547 farmers in biodiversity programmes or the withdrawal of glyphosate and the pesticide reduction plan are complementary measures aimed at strengthening support of the environmental and climatic dimension of agricultural activity in the broad sense. All these measures also form part of the green architecture of "PAC post 2020" as well as the European Commission's Green Deal.