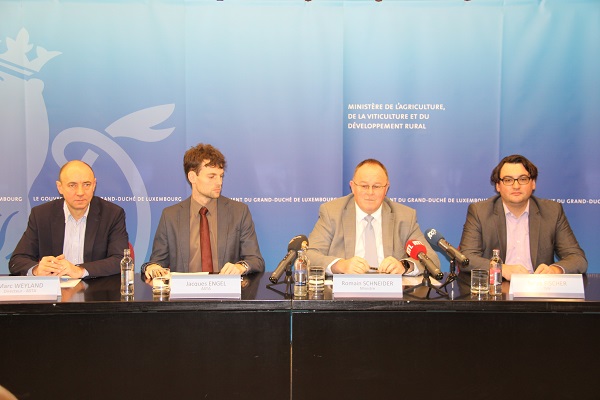 L-R: Marc Weyland, ASTA Director; Jacques Engel, ASTA; Romain Schneider, Minister of Agriculture, Viticulture and Rural Development; Serge Fischer, IVV; Credit: MA
Luxembourg is en route to become the first country in the European Union to ban the use of glyphosate, an active substance present in several herbicides.
The ban forms part of the 2018-2023 coalition government programme which foresees the discontinuation of glyphosate in the Grand Duchy by the end of 2020.
Ahead of this announcement, Luxembourg's Ministry of Agriculture, Viticulture and Rural Development informed concerned individuals, such as farmers and wine-growers, of the following planned measures: the withdrawal of the marketing authorisation for plant protection products containing the active substance glyphosate from 1 February 2020; the deadline for stocks will be granted until 30 June 2020; and a grace period for the use of these products by professional and / or private users will be in place until 31 December 2020.
This government decision will thus see Luxembourg put an end to its use of glyphosate from 1 January 2021, notwithstanding its approval at the European level.
In the eyes of Romain Schneider, Minister of Agriculture, Viticulture and Rural Developmen, this decision has the potential to produce a significant leverage effect throughout the European Union. Indeed, other countries such as Austria have already taken similar steps.
Operators who give up the use of plant protection products based on glyphosate from the 2019/20 crop year will be compensated as part of the subsidy for the maintenance of the countryside and the natural area. Farmers who have undertaken to comply with this condition will receive additional compensation per hectare of €30 for arable land, €50 for wine-growing land and €100 for fruit-growing.
In this context, Romain Schneider has welcomed the enthusiasm on the part of farmers to commit to giving up glyphosate before the pivotal date of 31 December 2020. Indeed, to date 592 of 1,005 farms, having confirmed their participation in the subsidy programme for the upkeep of the landscape and the natural area, have voluntarily participated in this particular initiative.
In addition, Luxembourg winegrowers have become the first in the EU to 100% voluntarily renounce the use of glyphosate for the 2019-2020 growing year. Indeed, winegrowers who agree to voluntarily renounce all use of herbicides in their vineyard will be compensated between €500 and €550 euros per hectare, depending on the land slope.
These steps also fit into the National Action Plan for the Reduction of Plant Protection Products, which aims to reduce the use of plant protection products by 50% by 2030 as well as reducing the most dangerous or most commonly used such products (including glyphosate products) by 30% by 2025.