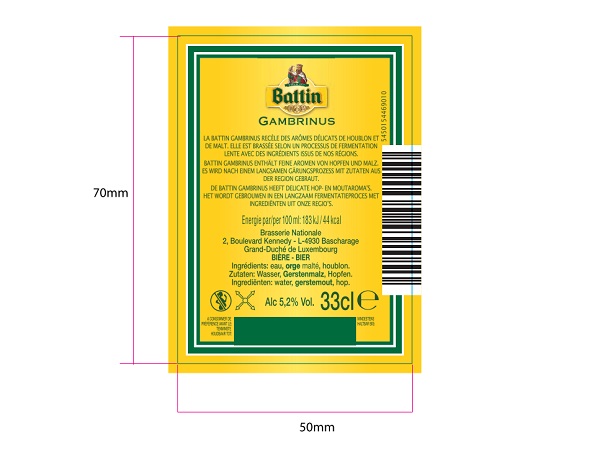 Battin label; Credit: Brasserie Nationale
Luxembourg's Brasserie Nationale, also known as the Bofferding Brewery, has announced that it recently signed a voluntary agreement on the transparency of its packaging.
A report by the Brewers of Europe association revealed that the European brewing industry continues to grow, breaking the 400 million hectolitres mark for the first time in ten years. The dynamism of this sector is also reflected in the increased number of breweries: Europe now boasts more than 10,000, about twice as many as five years ago. At the same time, beer consumption has increased considerably in all European countries, with consumers looking for diversity and increasingly turning to either specialty beers, alcohol-free beers or beers with a low alcohol content.
It is in this context of growth that the association of European Brewers and its members, including the Bofferding Brewery, signed a voluntary agreement, committing to clearly mentioning the ingredients and energy value of their products on all packaging by 2022. The Bofferding Brewery had already announced its intention to sign this agreement back in September.
Although beverages with an alcohol content exceeding 1.2% are not legally obliged to indicate this information according to European standards, these brewers have voluntarily taken the initiative to mention the energy value and ingredients of their beer. The main purpose of this agreement is to encourage brewers to take responsibility, clearly indicating the ingredients and calories on their packaging, in order to provide consumers with sufficient clear and accurate information.