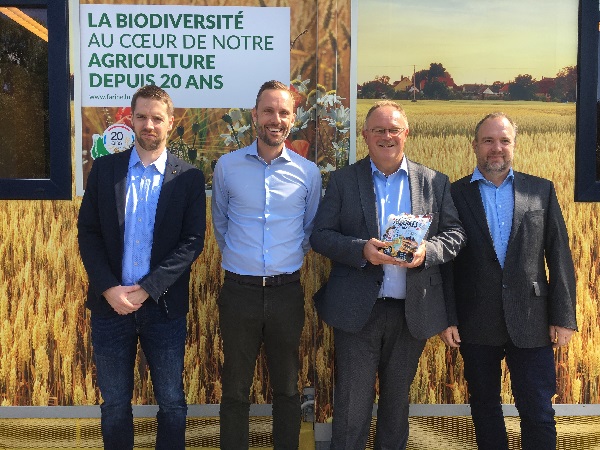 L-R: Serge Turmes, LSG director; Jean Muller, director of Moulins de Kleinbettingen; Romain Schneider, Minister of Agriculture, Viticulture and Rural Development; Klaus Palzkill, board member of DE VERBAND GROUP-VERSIS; Credit: Ministry of Agriculture
The 2019 harvest season has yielded 350 tonnes of organic wheat for the first time in Luxembourg.
Minister of Agriculture, Viticulture and Rural Development, Romain Schneider, today visited the Moulins de Kleinbettingen (Kleinbettingen mill) to discuss the conclusion of this year's cereal harvest with representatives of the sector. Following the visit, Romain Schneider, together with Jean Muller, director of the Moulins de Kleinbettingen, Steve Turmes, director of the Luxemburger Saatbaugenossenschaft (Luxembourg Seed Cooperative; LSG), and Klaus Palzkill, director of DE VERBAND GROUP-VERSIS, summarised the results of the harvest.
The Kleinbettingen mill collaborates with 250 local farmers to harvest an average of 18,000 tonnes of wheat for regionally produced flower. In addition, 2019 saw the harvest of 350 tonnes of organic wheat, in collaboration with the BIOG community of farmers, for the very first time. This wheat was processed into organic flour. Regarding the growing demand for organic wheat and organic baked goods, Minister Romain Schneider spoke of the "great potential" for cultivation and "an opportunity for farmers".
On the other hand, the 2019 grain harvest does not paint a consistent picture: while in the south and in the centre of the country, the harvest could be completed at the beginning of August, this year's harvest in the north was not completed until the end of the month. In spite of the drought and extreme heat, the yields in 2019 were very different, but on the whole satisfactory. In fact, some places even achieved top yields. In addition, the early harvested qualities were average. There was little loss of quality at the last harvested crop in the north. Concerning producer prices, cereal prices remain well below the September 2018 level.
Seed propagation of wheat, rye, barley and oats in 2019 has also been satisfactory, with Steve Turmes (LSG) highlighting the role played by marketing in the region.
Minister Schneider added that it was important for Luxembourg to stabilise and even increase the share of locally grown crops: "Luxembourg's demographics are rising and demand for locally produced cereal products should keep up! It is important to use this potential! It is also important that Luxembourg continues to rely on its own autonomous regional plant production. Only then can agriculture develop and adapt".
It is still too early to take stock of other arable crops, such as potatoes and corn.