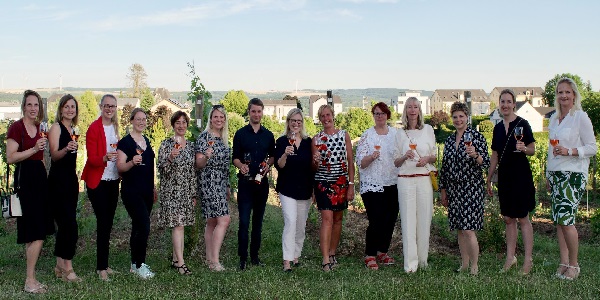 Participants at the Institut Viti-Vinicole in Remich; Credit: Lucilivines
Last Thursday, on the occasion of the annual general assembly of the Lucilivines asbl, a female jury announced the winner of the Luxembourg association's "Rosé Sélection Lucilivines" competition, held during a wine tasting at the Institut Viti-Vinicole in Remich on 15 June 2019.
Last month, 35 women, including several qualified female winegrowers, other members of the wine industry and representatives of the Luxembourg press, gathered at the Institut Viti-Vinicole for the first "Rosé Sélection Lucilivine tasting". The tasting featured a competition for the best rosé wine, the winner of which was decided exclusively by female jury members.
Six to eight jury members blind tasted a choice of eighteen different rosé wines (vintage 2018) before rating them according to characteristics such as smell, taste, colour and overall harmony.
The first-place winner was named the "Pinot Noir Rosé" from the Caves Berna winery from Ahn, a small wine-growing village in the municipality of Wormeldange in southwestern Luxembourg. The excellent wine impressed with its freshness and fruitiness with a harmonious touch of strawberries, cherries and currants.
The "Rosé Sélection Lucilivines" was awarded by the Lucilivines, a national association founded in 2012 by specialists in the field of oenology (the science and study of wine and winemaking). The association is composed of talented women who work in the wine insustry in Luxembourg as well as other women with an interest in wine. The goal is to develop innovative ideas and to expand the knowledge of internationally recognised top wines through training, workshops and travel.