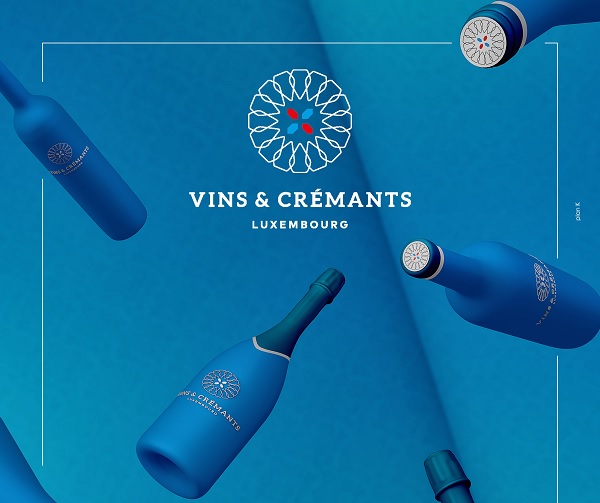 Luxembourg Wines and Cremants - new branding;
Luxembourg's Ministry of Agriculture, Viticulture and Consumer Protection has announced details of a new branding for Luxembourg wines and crémants.
The wines and sparkling wines of Luxembourg have received a new look under a new common identity. The development of a "brand image" for the products of the Luxembourg Moselle is at the top of the list of priorities according to the strategy study presented in the spring of 2017. After the presentation of the projects by seven different advertising agencies to the "marketing and communication" working group, the winemakers quickly decided to follow the national strategy "LuXembourg - Let's make it happen".
The Inspiring Luxembourg Committee, which is in charge of coordinating the "nation branding" strategy project, welcomed this initiative and stated that it is pleased to welcome a powerful new partner. The vintners and their quality products are the key figure of Luxembourg know-how and represent another important vector of the image of the country.
Establishing an intuitive link between wines and sparkling wines and their country of origin is one of the main goals of the common identity. The decision to rely on "nation branding" was therefore a logical conclusion. The important elements of joint advertising under a single brand are to improve the visibility of Luxembourgish products and to represent the Luxembourg wine region of the Moselle as a unit, without losing the identity of each wine grower. The common image of the wines and crémants refers to a logo consisting of a stylistic grape, a wineglass and crémant and the "X" of the "LuXembourg - let's make it happen", followed by the words "Wines & Crémants de Luxembourg". The chain arrangement of the stylistic grape, respectively the wineglass, represents the affiliation of the individual winegrowers with the origin in the centre.
In order to facilitate the recognition of Luxembourg wines and crémants, the products bearing the quality label "AOP Moselle Luxembourgeoise" are provided with a capsule bearing the logo. Until 2021, winegrowers have time to convert their products with the common identity. A few years ago, Austrian winemakers successfully launched a similar project.
The first joint appearance under the new logo will be the traditional "Fête des Vins et Crémants", which this year will be part of the gastronomic platform "Expogast" from 24 to 28 November at Luxexpo the Box where 47 winegrowers present their wines and sparkling wines under the new identity. The novelty of this year is that seminars are offered on Saturday and Sunday. The places in these seminars are limited - reservations are by email: info@vins-cremants.lu.