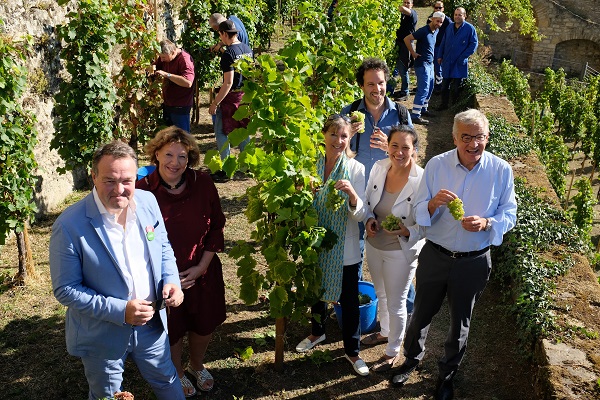 Klouschtergaart grape harvest 2018; Credit: Copyright Phototheque VDL Jacques Schneider
On Wednesday 12 September 2018, Luxembourg city's Mayor attended the grape harvest from the vineyard gardens of the former Abbaye de Neumünster (Klouschtergaart), located across the river Alzette at the foot of the Bock promontory.
In 2004, as part of its partnership with the "Landesgartenschau" in Trier, the City of Luxembourg rehabilitated these terraced gardens and again cultivated vines and medicinal plants, alongside vegetable crops that had always been cultivated there. In the vineyard of an area of ​​about 4 acres, Luxembourgish grape varieties are grown (Elbling, Rivaner, Pinot, etc.) following the old traditional method, i.e. each vine is grown individually.
The harvest of the Klouschtergaart, some 260 kg of grapes, will produce around 200 litres of wine by a winemaker from Niederdonven. The Klouschtergaart wine, which is not intended for sale, is served at receptions of the Ville de Luxembourg or offered as gifts on the occasion of official visits to the City Hall.
Klouschtergaart
The cultivation of these vines fits into the general concept of Klouschtergaart. This garden is entirely dedicated to agrobiodiversity and conservation of traditional Luxembourg plant species: the sustainability of native plants is ensured by the harvesting of the seeds, which have become resistant thanks to a work of several years already and to the particular microclimate at the foot of the rock of Bock.