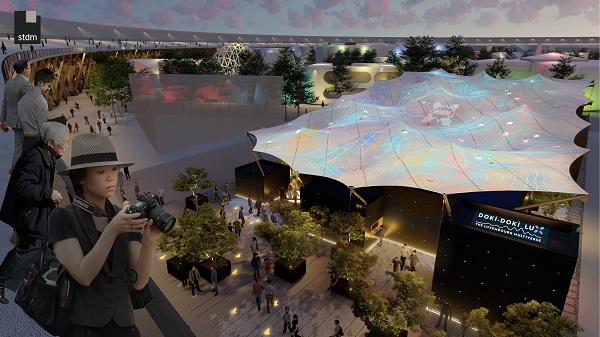 Credit: Steinmetzdemeyer
Luxembourg's Ministry of the Economy has announced that on Friday 15 September 2023, the economic interest group (GIE) Luxembourg@Expo2025Osaka signed a contract with the Japanese general construction company Naito House Co to build the Luxembourg Pavilion at the Expo 2025 Osaka World Exhibition themed "Designing Future Society for Our Lives", which will take place from 13 April to 13 October 2025.
With less than 600 days remaining until the official inauguration of the World Expo on the artificial island of Yumeshima in Osaka Bay, the signing of this contract marks a significant milestone in the preparation of Luxembourg's participation in Expo 2025 Osaka, the ministry noted.
Luxembourg@Expo2025Osaka GIE, an economic interest group established by the Luxembourg State and the Luxembourg Chamber of Commerce, is responsible for the planning, construction, operation and dismantling of the Luxembourg Pavilion at Expo 2025 Osaka.
Founded in 1969 and headquartered in Yamanashi Prefecture, Naito House Co, Ltd is a Japanese company specialising in the construction of prefabricated and modular buildings, as well as multi-story drive-in car parks. The company operates through a network of thirteen representative offices in Japan. According to the ministry, Naito House's expertise in developing and constructing prefabricated modular buildings is expected to be a "valuable asset" in meeting Luxembourg's objective of constructing a pavilion that aligns with circular economy principles.
Regarding the contract signing between GIE and Naito House, Luxembourg's Minister of the Economy, Franz Fayot, commented: "Given the highly complex circumstances in the Japanese construction sector, the signing of this contract ensures the secure construction of our pavilion. With Naito House, Luxembourg can count on a reliable Japanese company to build the pavilion envisioned by our architects and engineers."
Following the signing of the construction contract, André Hansen, Commissioner General of the Luxembourg pavilion of the Universal Exhibition in Osaka, highlighted that Luxembourg has already applied for the building permit from Osaka City Hall, placing the country among the most advanced in terms of preparations for participation in the World Expo.
In February 2022, the Ministry of the Economy launched an architectural and scenographic proposal competition. A total of twelve projects were submitted, and in June 2022, an expert jury selected the proposal by Luxembourg architects Steinmetzdemeyer and scenographers Jangled Nerves as the winning design. The Luxembourg Pavilion will feature a steel construction with a roof membrane designed in accordance with circular economy principles. Post-Expo 2025, the aim is to repurpose as many pavilion components as possible, aligning with the Grand Duchy's commitment to sustainability and circularity. The chosen theme for the pavilion is "Doki Doki – The Luxembourg Heartbeat." "Doki Doki", a Japanese expression meaning excitement and joy, will serve as the guiding theme throughout the visitor's experience within the Luxembourg Pavilion. Positioned under the Expo's sub-theme "Connecting Lives", the Luxembourg Pavilion seeks to connect Expo visitors with the people of Luxembourg and foster connections between Japan and the Grand Duchy.