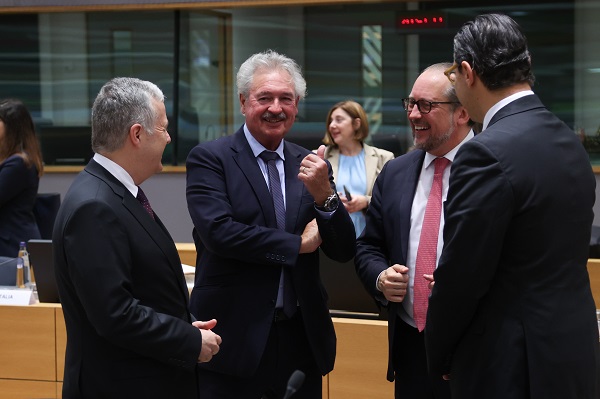 (L-R) Ivan Kondov, Bulgaria's Minister of Foreign Affairs; Jean Asselborn, Luxembourg's Minister of Foreign and European Affairs; Alexander Schallenberg, Austria's Minister of Foreign Affairs; Constantinos Kombos, Cyprus' Minister of Foreign Affairs; Credit: MAEE
On Monday 22 May 2023, Luxembourg's Minister of Foreign and European Affairs, Jean Asselborn, took part in the Foreign Affairs Council of the European Union in Brussels, Belgium.
EU foreign ministers first held an in-depth exchange of views on issues related to Russia's war of aggression against Ukraine, including recent developments on the ground and measures taken by the EU to support Ukraine. Welcoming all the efforts undertaken by the EU and its Member States to meet Ukraine's long-term defence needs, Minister Asselborn also emphasised the importance of continuing to limit Russian capabilities to continue this war: "In particular, this requires more effective sanctions: we must continue to improve their effective implementation while closing the door to certain circumvention practices." He also reaffirmed Luxembourg's commitment to the principle of accountability. Note in this context that the Grand Duchy is one of the founding members of the "Register of Damage", established last week under the auspices of the Council of Europe.
The foreign ministers went on to discuss the latest developments in the Horn of Africa, a region facing many challenges, particularly in terms of food security and widespread poverty, climatic shocks and recurring problems of instability.
Subsequently, EU ministers had an informal discussion with their counterparts from the six Western Balkan countries over a working lunch. In his speech on behalf of the Benelux countries, Minister Asselborn reaffirmed that Benelux remains strongly attached to the EU perspective of the Western Balkans, while recalling the importance of alignment with the EU's Common Foreign and Security Policy (CFSP) and the restrictive measures taken by the EU in response to Russian aggression against Ukraine. He also recalled the importance of respecting the rule of law and the fundamental values of the union in the EU accession process.
Ahead of the meeting of the Foreign Affairs Council, Minister Asselborn took part in the meeting of the "Group of Friends" about a transition to qualified majority voting for certain decisions in the field of CFSP. Luxembourg's Foreign Minister also had bilateral meetings with his Danish counterpart, Lars Løkke Rasmussen, and with the EU's Special Representative for the Middle East Peace Process, Sven Koopmans.