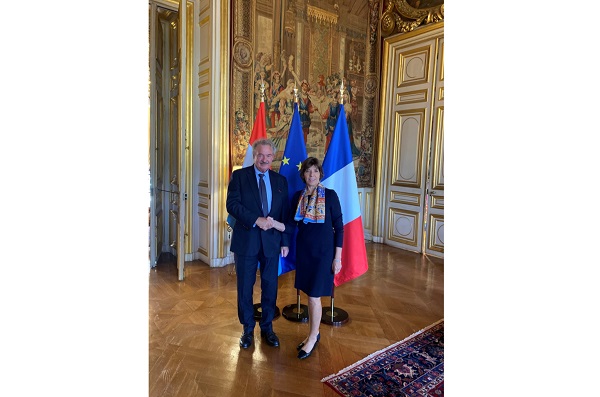 L-R: Jean Asselborn, Luxembourg's Minister of Foreign & European Affairs; Catherine Colonna, France's Minister for Europe & Foreign Affairs; Credit: MAEE
On Friday 30 September 2022, Luxembourg's Minister of Foreign and European Affairs, Jean Asselborn, paid a working visit to France, during which he condemned Russia's attempted annexation of various Ukrainian territories.
In Paris, Minister Asselborn took part in bilateral meetings with his French counterpart, Catherine Colonna, Minister for Europe and Foreign Affairs, as well as Olivier Becht, Minister Delegate for Foreign Trade, Attractiveness and French Nationals Abroad, and Laurence Boone, Secretary of State for European Affairs.
The first meeting, with Laurence Boone, confirmed the "excellent" bilateral relations between the two neighbouring countries. Minister Asselborn welcomed the fact that cross-border cooperation has steadily intensified in recent years and is reflected in concrete projects that benefit populations on both sides of the shared border.
State Secretary Boone and Minister Asselborn also discussed the main European issues at present, including those related to the European political community, enlargement of the European Union (EU) and the future of the EU. Above all, they highlighted the importance attached by Luxembourg and France to respect for the rule of law within the EU.
Minister Asselborn then met Olivier Becht to take stock of issues related to European trade news. This first meeting between the two ministers made it possible to reconfirm the broad convergence of views between the two countries on the need to anchor the Paris Agreement as well as the sustainable development mechanisms in the trade agreements that the EU concludes with international partners.
Luxembourg's Foreign Minister concluded his working visit to Paris with a bilateral meeting with Catherine Colonna, during which the two ministers had an in-depth discussion on the latest developments in Ukraine and Russia. They confirmed that Luxembourg and France are united in condemning in the strongest terms Russia's attempt to annex the Ukrainian regions of Donetsk, Luhansk, Kherson and Zaporizhia.
"This is another example of Russia's unacceptable violations of Ukraine's sovereignty, the UN Charter and the jointly agreed principles and commitments in the Helsinki Final Act", said Minister Asselborn.