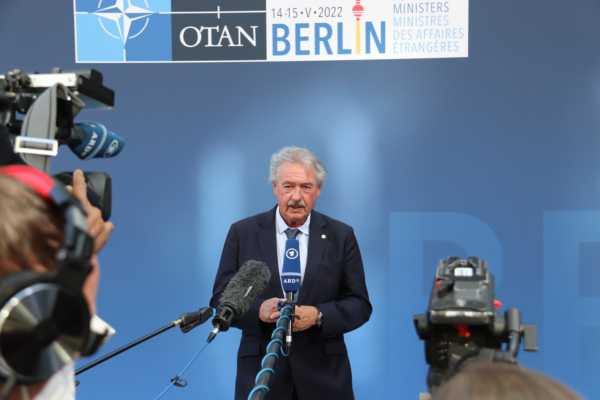 Jean Asselborn at the informal meeting of NATO Foreign Ministers in Berlin; Credit: NATO
On Saturday 14 and Sunday 15 May 2022, Luxembourg's Minister of Foreign and European Affairs, Jean Asselborn, participated in the informal meeting of NATO Foreign Ministers in Berlin, Germany.
At Germany's initiative, NATO ministers met, for the first time in the history of the Alliance, in an informal format.
The working dinner on Saturday 14 May 2022 first provided an opportunity to have an exchange of views with the Foreign Ministers of Sweden and Finland, Ann Linde and Pekka Haavisto, on national security discussions carried out by these two countries, and in particular on their future relations with NATO. In this context, Minister Asselborn confirmed that, if these two countries decide to apply for NATO membership, Luxembourg will give them all its support.
"Finland and Sweden are already NATO's closest partners; they are EU member states, mature democracies that make important contributions to Euro-Atlantic security", he pointed out, before adding that such membership "would strengthen as much the security of the Alliance as that of these two countries".
"It seems that after the observation of NATO's 'brain death' in 2019, we are witnessing the rebirth of NATO in 2022", said Minister Asselborn during this informal meeting, while emphasising the importance of Alliance unity.
The first working session on Sunday 15 May 2022 then allowed NATO ministers to have an in-depth discussion on all issues related to the war in Ukraine, including support for Ukraine and the consequences of the war for NATO. All ministers expressed their support and solidarity with the Ukrainian people.
Finally, the working lunch that followed was an opportunity to reflect on the preparations for the Madrid Summit and its key deliverables, including the Strategic Concept.