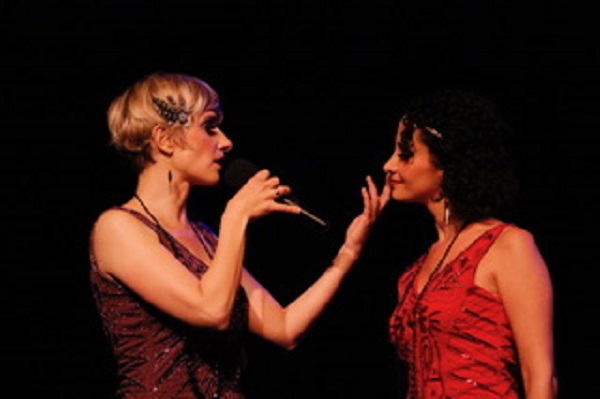 "Margo & Juliette"; Credit: Arienne Haan and Magali Dahan
Chronicle.lu recently had the opportunity to interview Luxembourg-born cabaret stars Adrienne Haan and Magali Dahan ahead of the world premiere of their new show "Margo & Juliette" at Triad Theater in New York City in the United States (US) next week.
Written, staged and directed by Adrienne Haan, with choreography by Ms Haan and her stage partner Magali Dahan under the musical direction of Richard Danley, "Margo & Juliette" is the story of women in 1920s and early 1930s Berlin. It is about their failures and successes, from feminist struggle to female glamour, (sexual) freedom and the longing for acceptance in politics and society, a story of love, loss and disappointment, a dance on the volcano between the two world wars where each day (and night) was celebrated as if it was the last.
Adrienne Haan, a citizen of both Germany and Luxembourg and permanent resident of the US, has been hailed as "the First Lady of Cabaret" by Wolf Entertainment Guide in New York City and "an entertainer of the highest calibre" by the Huffington Post. A graduate of the American Academy of Dramatic Arts in New York, Ms Haan is an award-winning concert and cabaret star who is constantly touring around the world with her diverse repertoire.
Fellow Luxembourger Magali Dahan is a professional singer and dancer, who founded her own entertainment company, Magma Show Paris, together with her partner Maryan Rousset, in 2010. What started as three events in the first year has since grown to nearly 100 annual performances.
Chronicle.lu: Adrienne, please tell us about your inspiration for this show.
Adrienne Haan: Several years ago, I did a duo show with a woman before and I love working with other people. Over a period of fifteen years now, I have been writing my own shows and I have a particular interest in the music from 1920s and early 1930s Berlin, music written by Jewish composers and lyricists that was considered "degenerate" by the rising Nazi Regime. The Weimar culture was so rich, the music complex and the lyrics funny, witty, political, even disturbing, sometimes even kinky. People were literally dancing on the volcano between the two world wars and lived every as if it was their last. The Great War had finally ended, which left millions and many people, especially young men, horribly crippled. People wanted change. The Empire was dead, the war over, a new era started. A new democracy was founded: the Weimar Republic that lasted only a short time. Everything was possible then. People were hungry for life until in 1933, the Nazis closed the curtain on the Golden Age forever. Many things that happened then I see happening in America today, plus there is the war in Ukraine. The songs in the show are as fresh as if they had been written today. The topics such as taking women's rights away, condemning same sex marriage or grieving over fallen or crippled soldiers are very current topics today as well and the world needs to be confronted with the true meaning of Kabarett again. I love lyrics and words, hence the Weimar genre has inspired me for so many years to write shows and perform those songs.
So, I was inspired to work with another beautiful and talented female performer because I do believe in strong women friendships, bonds and work collaborations. But where to find such a person? When Magali hit me up on Facebook in 2017, I knew that I was going to do the show with her. She inspired me to write this show, frankly, because I had found the perfect partner.
Chronicle.lu: Please tell us more about this collaboration. Had you both worked together before?
Adrienne Haan: Magali hit me up on Facebook and we soon became great friends. When she came to New York in 2018, we started hanging out with one another and in 2019, I made her a guest performer in my solo show "Berlin, Mon Amour" here in New York! It was a huge hit! People LOVED us together on stage. We do have such great chemistry and our looks and talents complement one another so well. I have NEVER worked with a more hard-working or dedicated stage partner. I work hard and Magali works just as hard! And there is so much harmony when we work together, never any tension. I worked with other partners before that were also great, but never quite like Magali.
Magali is a great dancer and businesswoman, who knows how to put on shows because that is what she has done for nearly 20 years. She and her partner are the owners of a big show company called Magma Show Paris and they have several big shows on the road. So, Magali brought a lot of expertise to the table and she always wanted to perform in New York. So, I thought this was the perfect match and it is. There is so much chemistry between us, on stage and off. We truly love each other as friends and stage partners and respect the other person so much for who they are and what they bring to the table. And before you ask: No! There is and never has been any rivalry. We are both not these types of people. We believe in strong bonds and making something work, helping one another, creating something big and special together. I wrote several monologues and lines specifically for Magali and envisioned her delivering my lines when I wrote them. I know her so well and also picked the specific songs and outfits for her (and of course my part as well). I even learned new songs for this show, so Magali could have the songs I sang so many times before which will be great for my audience - to see me singing new songs while I am re-introducing Magali to the New York stage.
I wrote "Margo & Juliette" more than two years ago and the show has been postponed for two years due to COVID-19. I can't believe we are finally here in New York and started our first rehearsal TODAY [Wednesday 11 May 2022]! A long eight-hour day, we are both exhausted but have only six more days to put this show together. I am quite proud. I worked like a mad woman in the last few months: writing, re-writing, staging, directing, picking costumes, working on the lights for the show, marketing it, social media, writing to the press, writing the programme, you name it. I did it all and I am so ready for this show to finally go up. The show lives of little details. I think it is a masterpiece and I cannot wait to premier it at my theatre of residence: the Triad NYC where I have been artist-in-residence since 2016.
Chronicle.lu: Magali, please tell us about your background. Have you performed in the US before?
Magali Dahan: I lived in Luxembourg until 2001 and then moved to Paris where I joined a music school for five years. Afterwards, I started immediately to work in musicals (among which was "Mamma Mia" at Théâtre Mogador), cabarets (main singer in "Paradis Latin"), I got invited as a special guest with my solo shows on cruise ships for two world tours, I started touring for many different companies in France and around the world. In 2012, I built my own show company "Magma Show Paris" with my partner and soulmate Maryan Rousset. We have now fifteen different shows touring in France and abroad. Variety shows with dancers and singers. I did all the choreographies, designed the costumes. With Maryan, we chose the artists and created very different shows. We are very proud of this company in which we surrounded ourselves with amazing artists. We have put so much work into it but it was really worth it! I love the creative work a lot as much as being on stage myself.
The first time I performed in the US was in 2019 with my great stage partner and friend Adrienne Haan in the show "Berlin, Mon Amour". It was an unbelievably strong and awesome moment in my artistic career. I will always have this very special feeling for this moment – being on the stage of that particularly magnificent Triad Theater with Adrienne Haan for such a show... on the exact day of my birthday… and with an extraordinary and very welcoming audience. I will always be so thankful and grateful to Adrienne to have invited me to share the stage with her!
Chronicle.lu: Please tell us about your music education and how you ended up abroad.
Magali Dahan: I started with dancing when I was living in Luxembourg when I was five years old. I immediately felt that arts would take a lot of space in my life and continued my cursus as a dancer in several schools in Luxembourg (Li Marteling and Conservatory of Luxembourg). I started then to get very interested in singing. I understood that if I wanted to build up a career in show business, I would have to leave my beloved country, Luxembourg. I arrived in Paris and joined a very reputed music school (Centre des Arts Vivants) where I studied dancing, singing and acting. These years were a huge and beautiful page of discovery for me and I quickly understood that I wanted to go further in my musical education. I went to several workshops and masterclasses in Paris and also in New York, and realised that as an artist, the desire and need to learn more about music and dance were unlimited. I also started now (while these COVID-19 years cut us artists off from being on stage) a jazz school and learned so much more about composing, improvising and instruments (piano and guitar). My new target now is to write my own music and lyrics. This is what I really feel is important for me in my musical development. I have a lot to tell and share.
Chronicle.lu: What are some of your greatest accomplishments in your career?
Adrienne Haan: I performed my solo concert at Carnegie Hall in 2015 and perform worldwide in thirteen languages. I have been artist-in-residence in New York City since 2016 and have had a solo career since 2007. I work hard and all the time, but I feel very fortunate!
The world premiere of "Margo & Juliette" will take place at Triad Theater in New York City on Tuesday 17 May 2022 at 19:00, with additional performances scheduled for Thursday 19 May (at 19:00), Saturday 21 May (at 14:00) and Wednesday 25 May (at 19:00). Tickets are available online at www.triadnyc.com. There is also the possibility to watch the Saturday (21 May) show live via Zoom or video on demand (and for two weeks on demand after the show date). Tickets: https://metropolitanzoom.ticketleap.com/haan-092521/dates/May-21-2022_at_0200PM
A Luxembourg premiere of the show is also in the pipeline.
Watch the trailer of "Margo & Juliette" below: