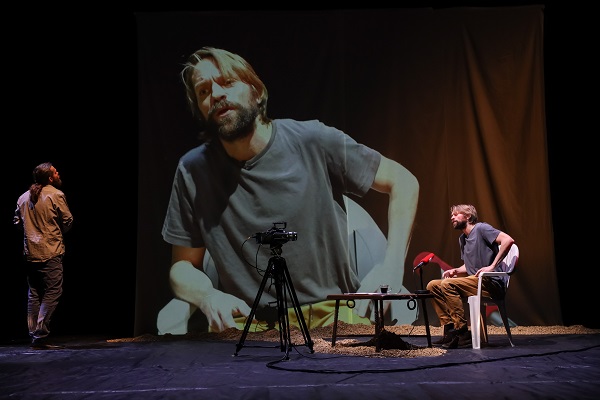 Terres Arides; Credit: Bohumil Kostohryz
The Theater Federatioun, an association representing theatre and performing arts in Luxembourg, has announced that "Terres Arides", a play by Ian de Toffoli, will represent Luxembourg at the Festival OFF in Avignon, which is taking place from 7 to 30 July 2022.
The second project presented in the framework of the cycle "Les Agitateurs", Terres Arides (English: arid lands), a play produced from a collective staging of a text by Luxembourg author Ian de Toffoli, has been selected by the "Avignon jury" to officially represent (with the financial support of Luxembourg's Ministry of Culture) French-speaking Luxembourgish theatrical creation at this year's OFF Festival in Avignon.
Co-produced by the Théâtre du Centaure and the Kulturhaus Niederanven with the Kinneksbond cultural centre in Mamer, Terres Arides tells the true story of a Luxembourg journalist's trip to Syria in 2019 to produce a report on Portuguese-Luxembourgish jihadist "S.". The play stars Luxembourg actors Luc Schiltz and Pitt Simon.
The jury's deliberation gave rise to heated debates and several rounds of voting were necessary before Terres Arides won the vote. The jurors particularly appreciated "the subject of the play and all the current subjects it addresses: the question of territory and citizenship, the sense of nationality, the motivations which can push young Europeans seduced by ideologies radical and violent to leave the comfort of the West, and in this case the comfort of Luxembourg, to go and wage jihad far from home". They also appreciated "the documentary aspect of the story of Luxembourg history, which critically examines the politics and justice of the Grand Duchy, but whose words go well beyond the borders of our country", as well as "the daring format of the piece, its scenic layout in the form of a conference, its relevant performative aspect and its captivating rhythm".
The jury, set up by Theater Federatioun, was made up of five members: Fábio Godinho, actor and director, winner of the 2021 "Avignon grant"; Jérôme Konen, Director of Kinneksbond; Marie-Anne Lorgé, actress, author and journalist; Godefroy Gordet, journalist, author and director; Alexandra Tobelaim, actress, director and director of NEST – Centre Dramatique National transfrontalier de Thionville-Grand Est (France).