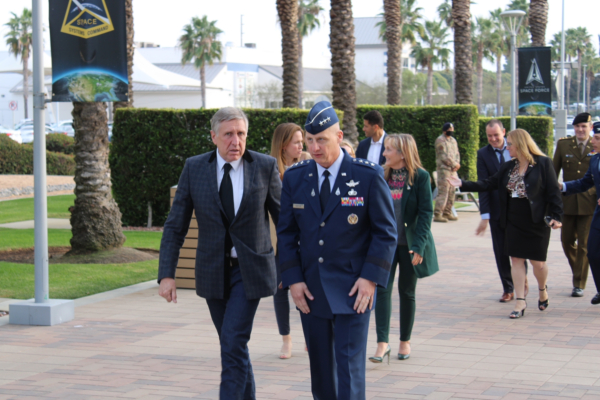 (L-R) Lieutenant general Mike Guetlein; Luxembourg Minister François Bausch; Credit: Directorate of Defense
From 19 to 22 November 2021, Luxembourg's Deputy Prime Minister and Minister of Defence François Bausch, attended a working visit to meet with representatives of the US Space Force and space companies in California, United States.
Minister Bausch met among others Lieutenant-General Mike Guetlein, commander of Space Systems Command of the US Space Force. During this meeting, the two interlocutors discussed cooperation between Luxembourg and the United States in the field of defence and more particularly in space.
Luxembourg and the US have enjoyed a close relationship for a long time and current cooperation projects cover different areas. Minister Bausch and General Guetlein discussed partnership opportunities mainly in the field of satellite communications but also in other fields such as space observation of the earth and knowledge of the space situation (Space Situational Awareness).
"Space is a field undergoing profound change and an environment that is constantly evolving with many new players, both public and private, all of whom have new ambitions. As a result, space is now a contested domain, crowded with many objects in orbit and prone to conflict. It therefore quickly gained importance for defence", emphasised Minister Bausch. He added: "It is essential to concentrate all our efforts to ensure the peaceful use of space and I am convinced that international cooperation is the key to guaranteeing freedom of action in this area".
The two parties agreed to further deepen collaboration between the US and Luxembourg in the future.
Minister Bausch also visited the production site of Virgin Orbit's LauncherOne launchers. The company provides launch services for small satellites whose specificity lies in a launch carried out from a Boeing 747. The advantage lies in particular in the flexibility of the launch, which can be done from any airport capable of accommodating such a type of plane. The satellite should no longer be transported to a launch base but the launcher moves to where the satellite is located. In addition, this type of launch requires much less preparation and represents only 10% of the energy used for a conventional launch, which is deemed beneficial for the environment.
Minister Bausch then visited the Boeing facilities at El Secundo. Boeing, among other things, is responsible for the construction of the satellites of the future O3b mPower constellation of SES.
Finally, Minister Bausch met with Space X officials and toured the company's rocket assembly plant. Space X is not only the historical partner of SES for the launch of their satellites but also the launcher of the first GOVSAT-1 satellite, a joint venture between the Luxembourg State and SES, which was put into orbit in January 2018.