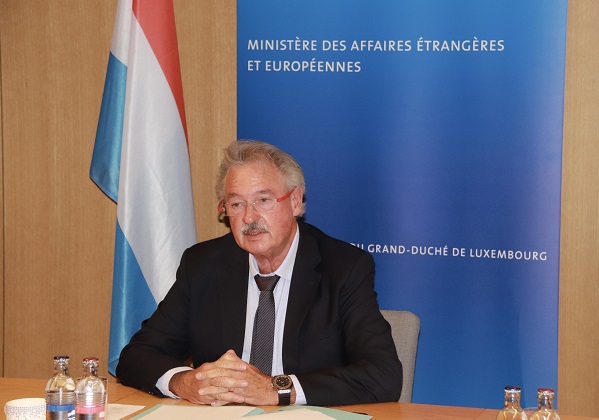 Jean Asselborn, Luxembourg's Minister of Foreign & European Affairs; Credit: MAEE
Luxembourg's Minister of Foreign and European Affairs, Jean Asselborn, participated via videoconference in the international ministerial conference on the United Nations Relief and Works Agency for Palestine Refugees in the Near East (UNRWA) on Tuesday.
The Hashemite Kingdom of Jordan and the Government of Sweden convened this ministerial conference in Brussels on 16 November 2021. The aim of the conference, entitled "Sustaining the Rights and Human Development of Palestine Refugees", was to mobilise political and financial support for the UNRWA, a UN agency whose objective is to meet the basic needs of Palestinian refugees in terms of health, education, humanitarian aid and social services.
Against the background of significant financial difficulties for UNRWA, the countries participating in the conference addressed the issue of stable funding for the agency so that it can fully and effectively implement the mandate entrusted to it by the UN General Assembly. Participants included UN Secretary-General Antonio Guterres and the Commissioner-General of UNRWA, Philippe Lazzarini, as well as several UN Member States, including Luxembourg.
In his speech, Minister Asselborn first expressed his gratitude to the UNRWA staff in Gaza for the remarkable work they did during the escalation of violence that took place in May, during which UNRWA schools served as emergency shelters. "Even during the bombings, UNRWA continued to provide essential services", Luxembourg's Foreign Minister said.
The minister also praised the work done by UNRWA throughout the COVID-19 pandemic, recognising that the agency is the main provider of health care for more than 5.6 million Palestinian refugees. Luxembourg, through its Directorate for Development Cooperation and Humanitarian Affairs, pledged €3 million to support the "Healthcare for Palestine refugees in Gaza" project for a period of three years.
Minister Asselborn emphasised that, in a context marked by the deterioration of the situation in the West Bank, Syria and Lebanon, "the work and the stabilising role of UNRWA in the region are more important than ever". In this context, Luxembourg signed, during the visit of the Minister for Development Cooperation and Humanitarian Affairs, Franz Fayot, to Amman in September, a new €12.3 million three-year strategic partnership framework with UNRWA.
Luxembourg's Foreign Minister also took the opportunity of the UNRWA ministerial conference to announce an additional voluntary contribution from Luxembourg to the tune of €2 million, charged to the budget of the Directorate for Development Cooperation and Humanitarian Affairs, aimed at helping the agency respond to the lack of funds that it encounters for the year 2021.