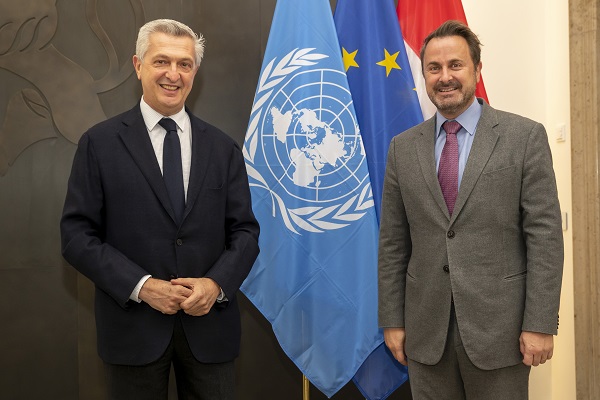 UN High Commissioner for Refugees, Filippo Grandi, pictured with Luxembourg's Prime Minister Xavier Bettel (above) and the Minister for Development Cooperation & Humanitarian Affairs, Franz Fayot (below); Credit: SIP / Julien Warnand; MAEE
The United Nations High Commissioner for Refugees, Filippo Grandi, travelled to Luxembourg for a working visit on Tuesday.
The UN High Commissioner met with Prime Minister Xavier Bettel at Hôtel Saint-Maximin, the headquarters of Luxembourg's Ministry of State. Discussions focused in particular on the overall situation of migrants and refugees, with a focus on recent developments at the European Union's borders.
Luxembourg's Prime Minister emphasised the "excellent" collaboration between Luxembourg and the United Nations High Commissioner for Refugees (UNHCR; also known as the UN Refugee Agency), stating: "I salute the noble task of the United Nations agency to ensure the international protection regime and to promote durable solutions for refugees around the world. You can count on Luxembourg's continued solidarity commitment".
This working visit was notably an opportunity for Luxembourg's Minister for Development Cooperation and Humanitarian Affairs, Franz Fayot, and UN High Commissioner Filippo Grandi to sign a new Strategic Partnership Framework between the UNHCR and Luxembourg's development cooperation programme, for the period from 2022 to 2025. This partnership will allow flexible funding to the UN agency in the context of the most significant ongoing humanitarian crises, particularly in Syria, Afghanistan and Ethiopia. Innovative solutions in the field of humanitarian action, the UNHCR's strategic development and telecommunications in the context of humanitarian emergencies will be the priority thematic aspects. The budget is set at €32 million over a four-year period.
The UN High Commissioner then met with Luxembourg's Minister of Foreign and European Affairs, Jean Asselborn. The latter congratulated Filippo Grandi for the remarkable work of the UNHCR, which is celebrating its 70th anniversary this year and which provides support and access to protection for vulnerable people in crisis zones. However, the minister added that better coordination of international solidarity, and in particular European solidarity, is necessary to deal with the current displacements of refugees fleeing such areas. Minister Asselborn reiterated Luxembourg's commitment to welcoming vulnerable people.