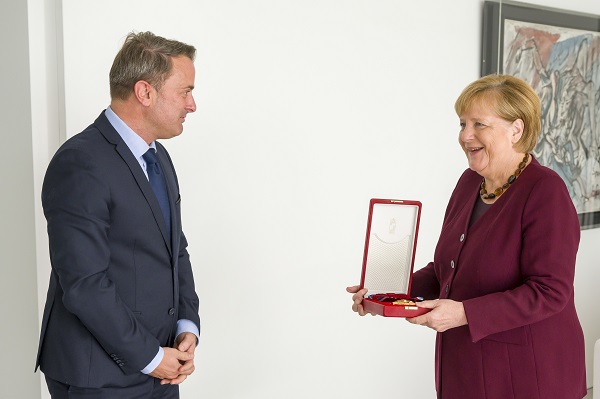 L-R: Xavier Bettel, Luxembourg's Prime Minister; Angela Merkel, Germany's Chancellor; Credit: © SIP / Jean-Christophe Verhaegen
On Monday 18 October 2021, Luxembourg's Prime Minister Xavier Bettel met with German Chancellor Angela Merkel during a working visit to Berlin.
Discussions focused in particular on European and international current affairs, as well as bilateral relations between Luxembourg and Germany.
Prime Minister Xavier Bettel and Chancellor Angela Merkel began with an interim assessment of the COVID-19 crisis. In this context, Luxembourg's Prime Minister highlighted the importance of the European Union (EU) in the management of the health crisis: "The fact that we can slowly see an end to the health crisis is also due to the European Union. Indeed, our unity has been tested and taken to the extreme. And yet, we stood together in the darkest times and demonstrated the resilience of our European Union, the friendship between our countries and their citizens".
On the subject of climate change, Prime Minister Xavier Bettel noted: "The climate crisis is a reality that no one can deny anymore. We felt it once again this summer, when the floods left a trail of devastation and suffering across entire regions of Germany and Luxembourg. It was important for us to act quickly and send reinforcements to our heavily affected neighbours in Ahrweiler. It is solidarity in action between our countries: we know that we are there for each other when it counts". He also stressed the urgency of accelerating climate measures, stating: "We must act now".
The heads of government also took the opportunity to discuss gas and energy prices. Prime Minister Xavier Bettel commented: "Different countermeasures are possible, but the most effective remain household aid and common European measures aimed at improving the liquidity and transparency of the internal market". He warned that "this situation must not be exploited to undermine common climate goals".
Luxembourg's Prime Minister also recalled how much he appreciated the position of Germany and Chancellor Angela Merkel with regard to the issue of respect for the rule of law and European values, before showing concern over the recent Polish Constitutional Court ruling (questioning parts of EU law). He stated: "This is shaking the foundations of the EU. Anyone who questions the primacy of European law over national law questions the equality of European citizens in relation to European law. I would like the Commission to examine this question and, if necessary, to use the instruments at its disposal".
Finally, Prime Minister Xavier Bettel thanked Chancellor Angela Merkel for the invitation to Berlin and for the fruitful cooperation of recent years. "Today is a meeting between friends. German-Luxembourg relations are excellent", he said. "For sixteen years, Angela Merkel has played an important role in Europe and has contributed to the resolution of many crises. Her leadership qualities, her European commitment, and often her patience and ability to listen and find compromises, have had a lasting impact on the European project. I thank Angela Merkel, on my own behalf and on behalf of the Luxembourg government".
As part of his visit, Luxembourg's Prime Minister presented Chancellor Angela Merkel with the honorary distinction of Grand Cross of the Order of Merit of the Grand Duchy of Luxembourg (Ordre de Mérite du Grand-Duché de Luxembourg).