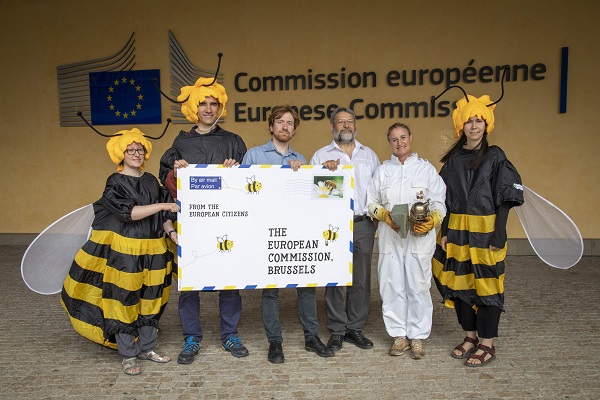 The European citizens' initiative "Save Bees and Farmers!" has received over 1.16 million signatures, including over 5,200 from Luxembourg.
The alliance of more than 220 organisations, including the Mouvement Ecologique, natur&ëmwelt and Greenpeace Luxembourg, behind this European citizens' initiative have expressed their delight at the success of this campaign, which collected more than 1.16 million signatures throughout the European Union EU). In Luxembourg, 5,293 people signed, thus exceded the minimum number needed (4,503).
The "Save Bees and Farmers!" initiative calls for a reduction in the use of synthetic pesticides by 80% by 2030 and by 100% by 2035 across the EU, as well as measures to restore biodiversity on agricultural land and massive support to farmers in the transition to organic farming and the implementation of agro-ecological measures.
According to the alliance, provided that the competent authorities confirm the signatures, the European Commission and the European Parliament (as well as national authorities) will have to put the initiative's requests on the agenda.
Raymond Aendekerk, Director of Greenpeace Luxembourg, commented: "The success of this initiative shows once again that the demands [facing] politicians are clear. Biodiversity and the survival of our farmers and food producers are closely linked. The EU's objectives to preserve the climate and the environment and to promote sustainable agriculture, as provided for in the Green Deal and the 'farm to fork' strategy, must not go unheeded".
"The success of the [European citizens' initiative] 'Save the bees and the farmers!' also confirms that it is high time to finally tackle the essential measures of the national action plan for the reduction of the use of pesticides, which have been waiting to be implemented for nearly five years", added Roger Dammé, a beekeeper and the member responsible for pesticide-related matters at Mouvement Ecologique, added. "In addition, it makes it clear that an in-depth reform of EU agricultural policy is absolutely necessary and is demanded by many European citizens. Here too, the Luxembourg government must make more efforts. So far, this important issue has been marked by a lack of transparency and open exchange with environmental organisations and civil society".
Lea Bonblet, Director of natur&ëmwelt, concluded: "The campaign around the European citizens' initiative could only be carried out virtually due to the COVID situation. Nevertheless, it was successful and thus sends a clear message: citizens support the objective of reducing pesticides and the preservation of our biodiversity".