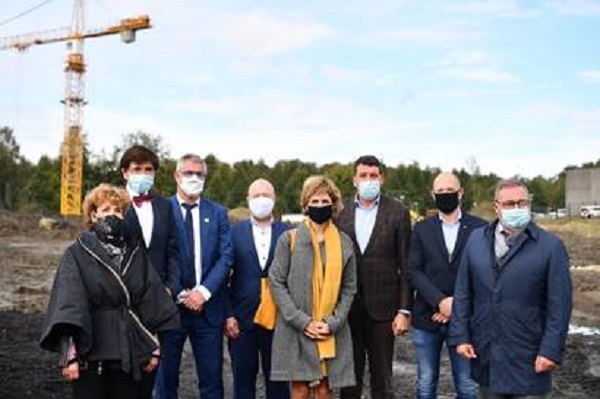 Credit: Jan De Nul Group
Jan De Nul Group, an engineering firm with its financial headquarters in Luxembourg, has announced the laying of the foundation stone for a new sorting centre in Ghlin, near Mons in Belgium.
Jan De Nul Group, Vauché S.A. and Val'Up have laid the foundation stone for this new sorting centre. Val'Up, formerly known as Valodec, Idéa, Ipalle and the private waste management companies SUEZ and Vanheede, awarded this €30 million contract at the end of 2019 to the temporary association Jan De Nul-Vauché. The centre comes in response to the new extended PMC sorting rules which started in January 2019 in Belgium.
Jan De Nul-Vauché will build the Val'Up Mons centre in less than a year and make it operational so that Val'Up can receive and process expanded PMCs. Once operational, the centre will be able to process up to 5,000 blue recycling bags per hour, or 50,000 tonnes of expanded PMC (plastic bottles, metal packaging, drink cartons, etc.) sorted per year.
The civil department of Jan De Nul Group will be responsible for the construction of the centre and the infrastructure works. Vauché S.A., a French company from Sedan specialising in the design, construction of equipment and complete turnkey waste treatment and recovery units, will be responsible for the sorting system itself.
The Val'Up site responds to the need to ensure optimal sorting of household packaging to allow more recycling. The sorting centre is set to be innovative and scaleable because it is capable of adapting to the current extension and to future changes in sorting instructions. The industrial tool, operational in summer 2021, will sort new types of plastics, while continuing to sort the usual PMC flows.