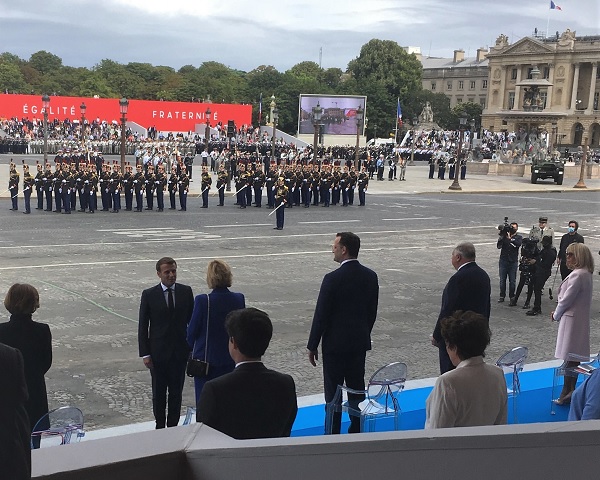 Minister Paulette Lenert in Paris for Bastille Day 2020; Credit: MAEE
On Tuesday 14 July 2020, Luxembourg's Minister of Health, Paulette Lenert, participated in France's national day holidays in Paris at the invitation of the Frebch President, Emmanuel Macron, along with her counterparts from Germany, Switzerland and Austria.
These three countries were chosen as a result of them taking care of a total of 161 French patients in their hospitals, including 11 in four hospitals in Luxembourg.
Following the reduced national holiday ceremony at the Place de la Concorde in Paris, honouring the mobilisation of the armies and the medical world against the Covid-19 pandemic, Minister Lenert had discussions with her German (Jens Spahn), Austrian (Rudi Anschober) and Swiss (Alain Berset) counterparts and also with WHO Director-General, Tedros Adhanom Ghebreyesus. During the luncheon hosted by the French Minister of Solidarity and Health, Olivier Véran, the ministers discussed the current situation in their respective countries and the lessons to be learned from the Covid-19 pandemic in preparation for renewed actions to start in the autumn.
"We managed to keep the first curve relatively low thanks to the remarkable commitment and solidarity of the doctors, health professionals, volunteers and our citizens. Today, we are concentrating all our efforts on closely monitoring the development of the situation and preparing for a possible new wave." said Minister Lenert.
Faced with a marked resurgence of the coronavirus in Luxembourg, the Minister further explained the very ambitious testing strategy deployed in the Grand Duchy, in order to comply with international recommendations. "The diagnostic system put in place made it possible to detect a high number of cases, including asymptomatic, and their contacts. The aim of these initiatives is to break the chains of infections and preserve the capacities of the health system."
In addition, the Luxembourg test system is accessible not only to residents, but also to the many cross-border workers who represent no less than 46% of the workforce. Luxembourg's situation therefore differs from that of other countries in that the number of positive cases includes a high percentage of non-residents, up to 20%.
Note also that according to the European mortality monitoring study (https://www.euromomo.eu/graphs-and-maps), the excess mortality observed for Luxembourg during the acute phase of the crisis remained below the level marked by a substantial increase; it is also much lower than that observed in neighbouring and European countries (BE, FR, EI, IT, NL, ES, CH, UK).