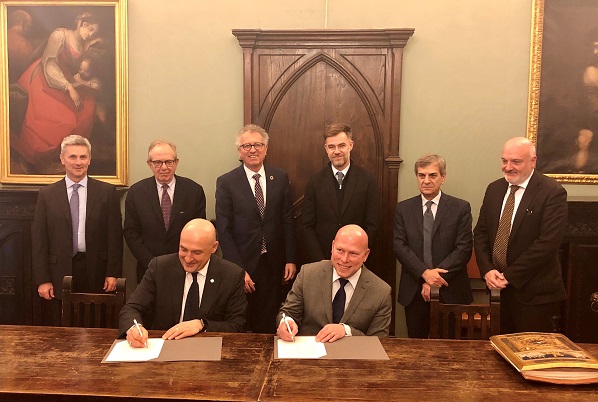 Universities of Luxembourg and Siena sign MoU; Credit: MFIN / MECO
Luxembourg and the Italian region of Tuscany have agreed to strengthen and boost their trade relations.
During their recent stay in Florence, Luxembourg's Minister of Finance, Pierre Gramegna, and Minister of the Economy, Franz Fayot, met Enrico Rossi, President of Tuscany, to explore different avenues for strengthening exchanges between Tuscany and Luxembourg, with particular emphasis on sectors and models promoting sustainable growth. More specifically, the ministers studied the possibilities offered by sustainable finance, health technologies, the wood cluster and space technologies.
The strengthening of exchanges was also on the agenda of the ministers' discussions with Dario Nardella, Mayor of Florence, with whom they agreed to deepen economic and industrial exchanges in areas in which Luxembourg is at the forefront of technology, such as mobility and sustainable development. They also agreed to encourage bilateral initiatives around the cities of the future (smart cities).
Finally, the ministers participated as speakers in front of an audience of entrepreneurs and decision-makers at a conference organised jointly with the Florence Chamber of Commerce. This event revealed the economic assets available to Luxembourg and facilitated the creation of further links between the Italian and Luxembourg industries. On this occasion, Luxair presented its new airline, which will serve Florence from Luxembourg twice a week (Monday and Friday) and will thus promote travel and tourism in both directions.
During the final stage of the visit, which took place in Siena, the ministers attended the signing of a Memorandum of Understanding (MoU) between the University of Luxembourg and the University of Siena. The latter, founded in 1240, is known internationally for the excellence of its research and teaching in law and economics. Through this agreement, the two universities intend to improve and strengthen scientific collaboration in these fields, as well as those of health and life sciences. Emphasis will also be placed on entrepreneurship.
Finance Minister Pierre Gramegna commented: "This visit to Italy will have strengthened our ties with one of our key partners, and this in a difficult context marked by the COVID-19 virus. During the many fruitful exchanges with national and regional decision-makers in Rome, Florence and Siena, we were able to tackle themes of common interest and promote the Luxembourg economy in all its diversity, while preparing the way for future exchanges in growth sectors, such as sustainable finance and fintech in particular".
Economy Minister Franz Fayot noted: "I am delighted that the exchanges carried out during this working visit made it possible to deepen relations with Italy, both politically and economically, all with a view to sustainable development. I am confident that our enhanced collaboration with Italy in space will further contribute to the dynamic development of the space industry in Europe".