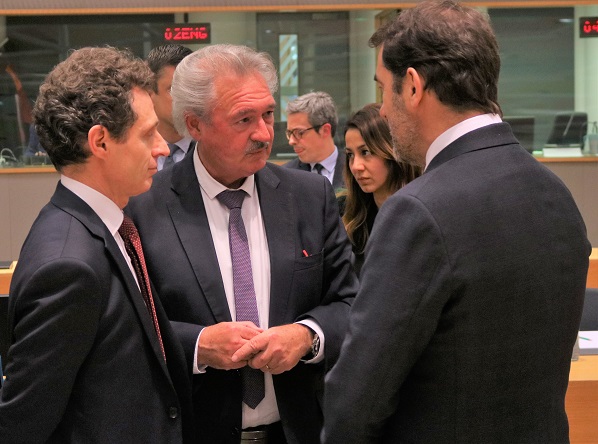 L-R: Philippe Léglise-Costa, Permanent Representative of France to EU; Jean Asselborn, Luxembourg's Minister of Foreign and European Affairs and of Immigration and Asylum; Christophe Castaner, Minister of the Interior of France; Credit: MAEE
Luxembourg's Minister of Foreign and European Affairs and of Immigration and Asylum, Jean Asselborn, participated in the extraordinary Justice and Home Affairs Council on migration held in Brussels yesterday.
This extraordinary meeting, convened by the Croatian Presidency of the Council of the European Union (EU), took place in the context of the migration crisis at the external borders of the EU and, more particularly, the situation of refugees and migrants on the Turkish-Greek border. The ministers discussed the various measures that the EU can take in order to improve the situation on the ground, in particular from the point of view of common European efforts to manage migration.
In light of the migratory pressure which the member states bordering Turkey have been facing for over a week, Jean Asselborn expressed his solidarity with Greece and Bulgaria and supported the idea of ​​deploying staff and resources to help improve the situation. Luxembourg's Foreign Minister stated: "The European Union must come to the aid of Greece, particularly with regard to the distribution of unaccompanied minors". While pointing out the European Commission's right of initiative, Minister Asselborn added that "sometimes rights also become duties".
In order to help resolve the humanitarian crisis on the Greek islands, Jean Asselborn suggested that each member state participate in the relocation of unaccompanied minors. As for Luxembourg, he announced that the government is ready to welcome ten unaccompanied minors in the context of such relocation.
In view of the Turkish government's decision to end its efforts to control migratory flows to Greece and, consequently, to no longer honour the commitments made in the 2016 EU-Turkey Joint Action Plan, Minister Asselborn declared that "using vulnerable people as currency is not a basis for discussion". Indeed, while recognising Turkey's efforts to receive and accommodate a large number of refugees on its soil, Minister Asselborn maintained that the unilateral decision taken by the Turkish government "is blackmail and further closes the doors of the European Union, instead of opening them".
Luxembourg's Foreign Affairs Minister added: "In the 21st century, we should not be playing with the lives of people who are in misery". He concluded by calling for respect for the Geneva Convention and international law, particularly in the context of the current situation on the Turkish-Greek border.