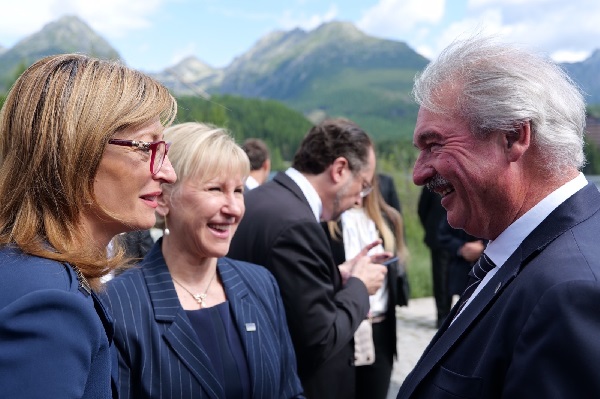 L-R: Ekaterina Zakharieva, Minister of Foreign Affairs of Bulgaria; Margot Elisabeth Wallström, Minister of Foreign Affairs of Sweden; Jean Asselborn, Minister of Foreign and European Affairs of Luxembourg; Credit: MAEE
Luxembourg Minister of Foreign and European Affairs Jean Asselborn participated in the informal meeting of Foreign Ministers of the Organisation for Security and Co-operation in Europe (OSCE), which took place on 8 and 9 July 2019 in Poprad-Tatry.
Held under the Slovak Chairmanship of the OSCE, this informal meeting brought together the Foreign Ministers of the organisation's 57 participating states and provided an opportunity to discuss security-related issues in Europe and to reflect on the future role of the organisation in a changing multilateral environment.
Recalling the importance of the OSCE in overcoming differences in the past, Minister Asselborn emphasised the central role of the organisation: "With its comprehensive approach to security through cooperation, the OSCE can help us build confidence and overcome some of our divisions".
Nevertheless, the Luxembourg Foreign Minister expressed his concern about the continued deterioration of the human rights situation in the OSCE area, regretting that "the room for manoeuver of civil society in a growing number of our participating states is in constant decline. Not only human rights defenders, but also journalists are being persecuted".
The ministers then turned to the situation in Ukraine. In this context, Minister Asselborn regretted that the situation remains extremely volatile, adding that "it is time for the parties to step up their efforts to fully implement the Minsk agreements and break the current impasse in the trilateral contact group".
Finally, the ministers focused on the structured dialogue on current and future challenges and risks to security in the OSCE area. In the light of the current erosion of the European security system and a worrying increase in military exercises, according to Jean Asselborn, it is crucial to strengthen dialogue and "reinvigorate the arms control regime and address the lack of transparency that only makes confidence more fragile among the participating states".
On the sidelines of the OSCE meeting, Minister Asselborn had a bilateral meeting with his Kazakh counterpart Beïbout Atamkulov to take stock of bilateral relations as well as major international political issues.