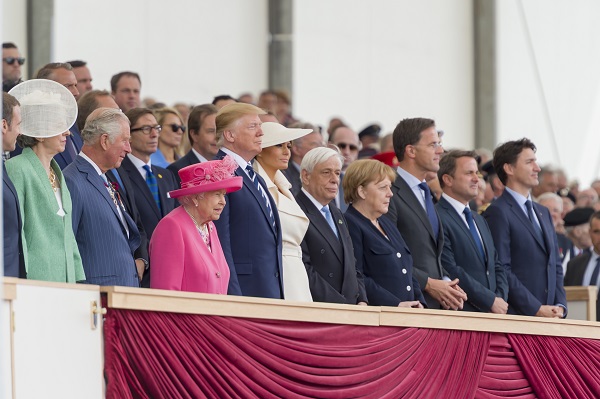 D-Day Commemoration Ceremony 75th anniversary; Credit: © SIP / Jean-Christophe Verhaegen, tous droits réservés
On Wednesday 5 June 2019 and at the invitation of British Prime Minister, Theresa May, Luxembourg's Prime Minister Xavier Bettel travelled to Portsmouth in England to participate in the commemoration ceremony on the occasion of the 75th anniversary of D-Day from Normandy.
The Normandy Landing was a turning point in the battle for Europe during the Second World War, when Allied troops embarked on thousands of ships leaving the UK's south coast on 5 June 1944 to land in Normandy on 6 June 1944. D-Day remains to this day the largest landing ever attempted and was only possible thanks to the bravery, commitment and sacrifice of soldiers and individuals from many countries, including Luxembourg.
Together, European and international leaders took this opportunity to sign a declaration that reads: "... We unite today to honour the memory of those who made the ultimate sacrifice on D-Day and millions of men and women who lost their lives during the Second World War, the most important conflict in the history of mankind. We affirm that it is our common responsibility to ensure that the unimaginable horror of these years is never repeated. ... In this way, we will honour the memory of those who have gone before us and make sure that the sacrifices of the past are never in vain or forgotten".
In this regard, the Prime Minister stressed "the commemoration of the D-Day must also be an opportunity for the younger generations to learn more about our common history and learn from humanity and tolerance. Freedom and democracy are values ​​that require the continued commitment of all. This will be the most appropriate way to honour the memory of all the victims of the war and to ensure that this horror does not happen again."
The following leaders were present: Scott Morrison - Prime Minister of Australia, Charles Michel - Prime Minister of Belgium, Justin Trudeau - Prime Minister of Canada, Andrej Babis - Prime Minister of the Czech Republic, Emmanuel Macron - President of the French Republic, Angela Merkel - Chancellor of Germany, Prokopis Pavlopoulos - President of Greece, Xavier Bettel - Prime Minister of Luxembourg, Mark Rutte - Prime Minister of the Netherlands, Patsy Reddy - Governor of New Zealand, Erna Solberg - Prime Minister of Norway, Mateusz Morawiecki - Prime Minister of Poland, Richard Rasi - Deputy Prime Minister of Slovakia, Donald J. Trump - President of the United States.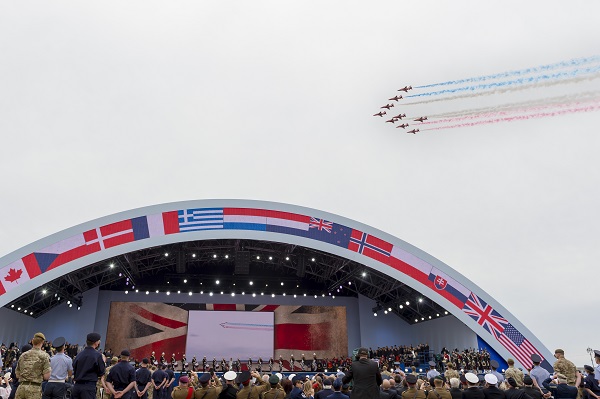 © SIP / Jean-Christophe Verhaegen, tous droits réservés​