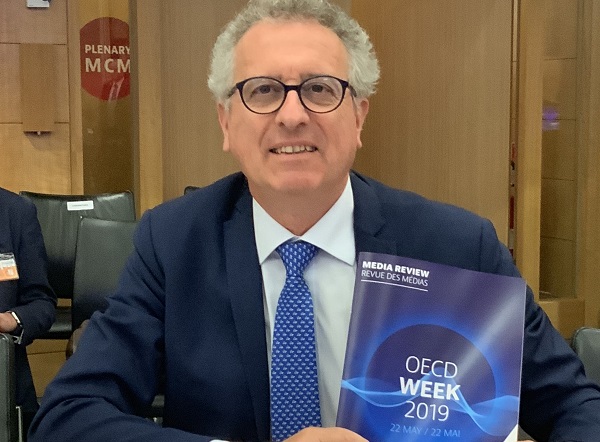 Credit: MFIN
On 22 May 2019, Minister of Finance Pierre Gramegna represented Luxembourg at the OECD Council meeting at the ministerial level in Paris.
Chaired this year by the Slovak Republic, the conference was held under the theme "Digital Transition for Sustainable Development: Opportunities and Challenges".
In his keynote address, Secretary General Angel Gurría emphasised the importance of putting in place national and international public policies that make full use of the potential of the digital revolution while confronting the upheavals it engenders in areas such as taxation, economic development and data governance. In this context, the Council of Ministers of the member countries adopted in particular ten recommendations to encourage the industrial spread of artificial intelligence and its adoption by the public and private companies.
In his intervention during the session, "Unlocking the Potential of Digital Transition: The Role of Governments and Importance of International Cooperation", Minister Gramegna made proposals to better face the challenges of cybersecurity, privacy protection and the misuse of these technologies. In particular, he advocated for greater collaboration between private and public actors as well as between policy makers and regulators across national borders to enhance cybersecurity. He also presented the progress that Luxembourg has made in this area, with a focus on the development of T4 digital data centres, the third national cybersecurity strategy and information exchange initiatives such as the Malware Information Sharing Platform.
On the subject of the imposition of the digital economy, the ministers expressed their support for the work of the OECD at the plenary session and spoke in favour of a multilateral solution. The OECD thus expressed confidence that such a solution would be found by the end of 2020.
On this occasion, Pierre Gramegna met with Angel Gurría and Pascal Saint-Amans, Director of the OECD's Centre for Tax Policy and Administration, on the progress made in this area and underlined Luxembourg's commitment to find a common and consensual solution. With Laurence Boone, Chief Economist of the OECD, Minister Gramenga then took stock of recent developments in the global, European and Luxembourgish economies and more particularly on trade tensions between the United States and China, as well as the United States and Europe.
On the sidelines of the ministerial meeting, Pierre Gramegna also met with Felipe Larrain, Minister of Economy and Finance of Chile, and the Deputy Ministers of Economy of Brazil, Marcelo Pacheco dos Guaranys and Marcos Troyjo. Together they discussed bilateral relations between the financial industries and on the "Coalition of Finance Ministers for climate action", of which Luxembourg is a signatory and which is co-chaired by the Chilean Minister, as well as several avenues to further strengthen cooperation between Luxembourg and Brazil in the financial sector.