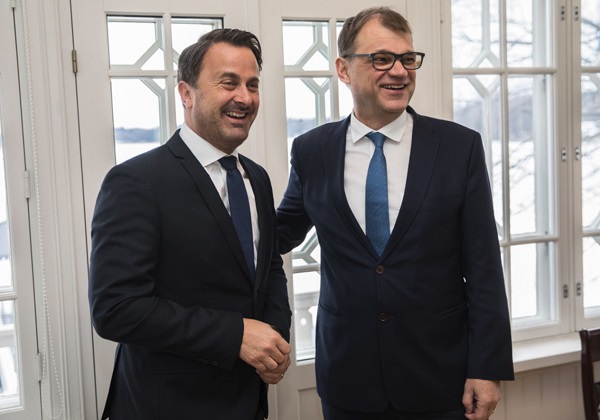 L-R: Xavier Bettel, Luxembourg Prime Minister, Minister of State; Juha Sipilä, Prime Minister of the Republic of Finland; Credit: Lauri Heikkinen/Prime Minister's Office
Luxembourg Prime Minister Xavier Bettel today addressed recent Brexit developments during his working visit to Helsinki, Finland.
On 12 March 2019, Prime Minister and Minister of State Xavier Bettel paid a working visit to Helsinki where he met with the Finnish Prime Minister Juha Sipilä. The two counterparts exchanged on bilateral relations, ultimately agreeing to deepen this cooperation in research and development and more specifically in the fields of the digital economy and environmental technologies.
Xavier Bettel and Juha Sipilä also discussed European political events, including recent developments related to Brexit, just a few hours before the new British Parliament vote taking place this evening. The Luxembourg Prime Minister commented: "Whatever the result of tonight's British vote, it is imperative to preserve the unity of the 27 and ensure the integrity of the single market and the functioning of the European institutions, for the good of all European citizens".
The two Prime Ministers also prepared the European Council of 21 and 22 March 2019. On this occasion, Xavier Bettel congratulated the Finnish Prime Minister for the initiative of the letter addressed to the President of the European Council, Donald Tusk, on the future development of the Single Market and European Digital Policy for the next Strategic Agenda.
Xavier Bettel and Juha Sipilä similarly discussed the priorities of the Finnish Presidency of the EU Council in the second half of 2019, as well as the multiannual financial framework of the European Union.
On the sidelines of his visit, Xavier Bettel met with members of various Finnish youth associations for a discussion entitled "Youth, Peace and Security". On this occasion, the Luxembourg Prime Minister spoke in favour of a stronger Europe, which works increasingly in the interests of its citizens including young people, particularly in the fight against unemployment and in favour of exchange programmes like Erasmus.