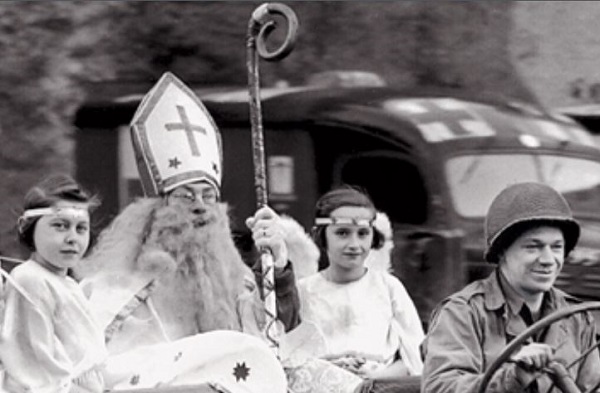 American St Nick, Richard Brookins;
Ties with Luxembourg have become a part of Christmas Tradition in Washington DC, USA; on 23 December 2018, the Maryland Public Television (MPT) – a part of the Public Broadcasting System (PBS) – aired the highly acclaimed and Emmy Award winning documentary "American Saint Nick."
The documentary is based on the book written by Peter Lion who describes how on 5 December 1944, American soldiers, led by Harry Stuts – a Jewish soldier - put their guns down for one day and organised a party celebrating the town's centuries-old Saint Nick tradition, which was banned along with many other religious traditions during the four year of occupation by the Nazis. American Soldiers made hot chocolate from their D-rations, company cooks made donuts and cookies for the children, and 22-year-old corporal Richard Brookins from Rochester, NY, played the role of Saint Nick for the children.
In her review, Meredith Vieira, Journalist and TV Talk Show Host, wrote: "against the bleak backdrop of World War II, a group of American GIs unleashed the strongest weapon in their arsenal: humanity." She added: "Peter Lion recaptures the magic of Santa to transcend even the darkest of times. The children of Wiltz, Luxembourg, never forgot their American St. Nick. And now neither will you."
From the documentary, viewers saw Richard Brookins return several times to Luxembourg for the special annual ceremony in Wiltz. And, for his role as the "American St. Nicolas", Brookins received Luxembourg's highest military honour, The Military Medal. Past recipients of this incredible honour include Winston Churchill, Gen. Dwight Eisenhower and Charles de Gaulle.
For many residents of the Washington D.C. metropolitan area, this documentary brings back special memories. "This is a wonderfully moving story and I confess I had a small lump in my throat when I watched it," said Dr. Larry Poos, History Professor, Catholic University of America. Dr. Poos further added: "It's especially remarkable because the 112th Regiment had a movie camera and could record the faces of the children when they saw their American Klees'chen (as they call St. Nicholas there). I dare anyone to watch this and not be moved by it."
Describing the historical and geographic context, Dr. Poos mentioned his personal connections to this story: "'The American Saint Nick' centres on the northern Luxembourg town of Wiltz, after it had been liberated from German occupation in late 1944 but before the Germans briefly re-took Luxembourg - and destroyed much of Wiltz - during the Battle of the Bulge. This is particularly meaningful to me because Berdorf - my ancestral village, where my great-grandfather was born - was in the middle of the first German incursion back into Luxembourg. I hope that this programme will remind everyone who sees it of the deep mutual friendship between America and Luxembourg. It's been very heartwarming to me, when I've had the opportunity to visit the Luxembourg embassy, to be able to feel part of that friendship and I pray it continues for a very long time. As Ons Heemecht, the Luxembourg national anthem says, 'Our own, our native land which ranks Deeply in our hearts'."
Nicolas Poos, Larry's great grandfather, was a wagon maker who was born in Berdorf, Luxembourg, on 8 October 1823 and emigrated to U.S. on the ship "Centurion" from Antwerp to New York, landing 3 May 1852. He was naturalised as U.S. citizen, Preble County, Ohio, on 3 October 1854 and was married to Anna Maria Becht (from Germersheim, Germany) Cincinnati, Ohio on 23 June 1855. The elder Poos had a successful life in America and bought a farm outside of Eaton where his descendants like Larry grew up.
Reminiscing about his visit to Luxembourg, Dr. Poos said: "When I first went to Luxembourg to visit Berdorf and went up to the immigration official to show my passport he asked me why I had come to that country - I said 'I want to see the village where my great-grandfather was born' and he looked at my passport, saw "Poos", said "Ah, Poos" and stamped me right in."
In Washington, H.E. Ambassador Sylvie Lucas and the Embassy staff maintain the connections with the Luxembourgish Diaspora with the ties that bind.