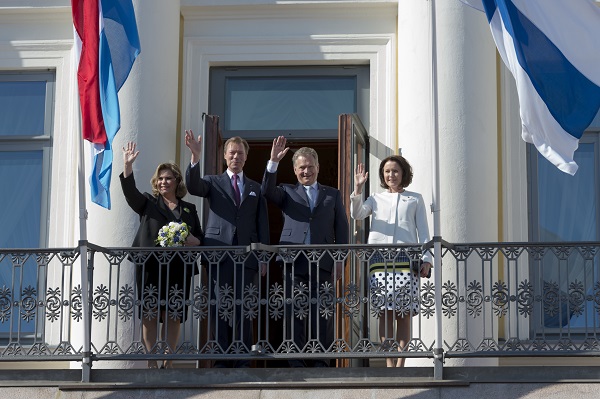 Tuesday 10 May 2016 marked the first day of the Luxembourg state visit to Finland, led by TRH the Grand Duke and Grand Duchess.
The delegation, which also includes Luxembourg Deputy Prime Minister, Minister of the Economy, Étienne Schneider; Minister of Foreign and European Affairs, Jean Asselborn; and Minister of the Environment, Carole Dieschbourg, was officially welcomed at the presidential palace upon their arrival. TRH the Grand Duke and Grand Duchess were greeted by Finnish President, Sauli Niinistö and his wife, Jenni Haukio, before an exchange of gifts took place.
At a gala dinner in the presidential palace, HRH the Grand Duke made a speech, during which he stated "it is my first time during a state visit greeting a head of state, who is as familiar with my country", pointing to President Niinistö's background as vice-chairman of the board of directors at the European Investment Bank in Luxembourg.
The Grand Duke then spoke of the 1952 Olympic Games in Helsinki, during which Luxembourgish athlete Josy Barthel beat his opponents in the final stretch of the 1500 metres, claiming the gold medal and making sporting history. Grand Duke Henri explained that his father had been present and that it remained a "very emotional moment" for the country during a difficult time following the end of World War II.
"The relations between Finland and Luxembourg are primarily a matter of human relationships marked by great cordialitiy," HRH the Grand Duke commented, claiming that despite the geographical distance between the two countries, they remain close in their shared commonalities, marked as they both were through the centuries "by their successive memberships to dominant powers, to the great powers of the time, usually their immediate neighbours."
The Grand Duke equally highlighted both countries as "crossroads of cultures", sharing in multiculturalism and multilingualism borne of the integration of external influences.
"Whilst the danger of division lurks almost everywhere, Finnish society seems characterised by a very high degree of cohesion, based both on individual responsibility and collective interest and success," the Grand Duke stated. "In addition, Finland's gaze on the world around it reflects its deep aspiration for peace and stability which has long characterised its society. It is this constant search for stability coupled with its reliability as a partner which makes its reputation within the European Union."
The Grand Duke then spoke of the two countries' shared commitment to "modernity through training, research, innovation and the diversification of economic structures", before toasting the President and the First Lady of Finland and the friendship between the two nations.
Today, Wednesday 11 May 2016, the Grand Duke will be speaking at the opening of the economic seminar at Finlandia Hall, jointly organised by the Finnish and Luxembourg Chambers of Commerce in collaboration with Luxembourg for Finance and the Export Promotion Agency of Finland (FinPro). HRH is due to be given the medal of honour of Helsinki later today before the Luxembourg delegation embarks on a visit to the Hietaniemi cemetery.
First two photos by SIP/Charles Caratini. Bottom photo by SIP/Jean-Christophe Verhaegen