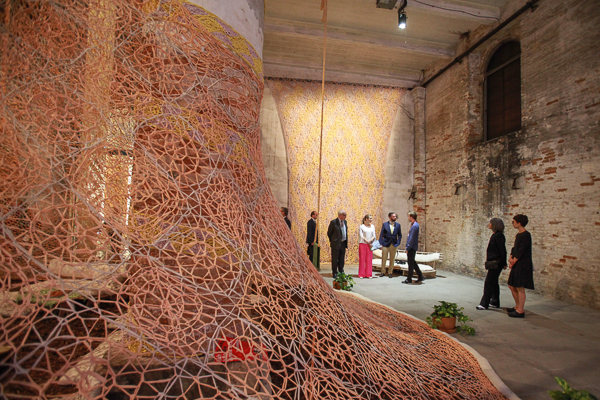 The Hereditary Grand Duke and Grand Duchess accompanied by Secretary of State for Culture Guy Arendt attended the opening of the 57th Venice Biennial of Contemporary Art, one of the most prestigious artistic events in the world which first opened in 1895.
This year, the Grand Duchy of Luxembourg is represented by artist Mike Bourscheid, whose "Thank you so much for the flowers" is at the Pavillon du Luxembourg at the Ca 'del Duca, the permanent site for Luxembourg's presentations since 1999.
Speaking to Canadian Art magazine last year, Bourscheid said that he hopes to capitalise on the fact that Luxembourg rents what is essentially a large apartment for its Venice project every year, and that rather than trying to make the space masquerade as a white cube, he hopes to accentuate its domestic, intimate qualities.
"Even during performances, people can experience these rooms like those in an apartment," Bourscheid said. "There will be tinted windows in some, and very special carpet in another."
Bourscheid moved to Vancouver in 2012.
The exhibitions for the Venice Biennial will remain until 26 November.