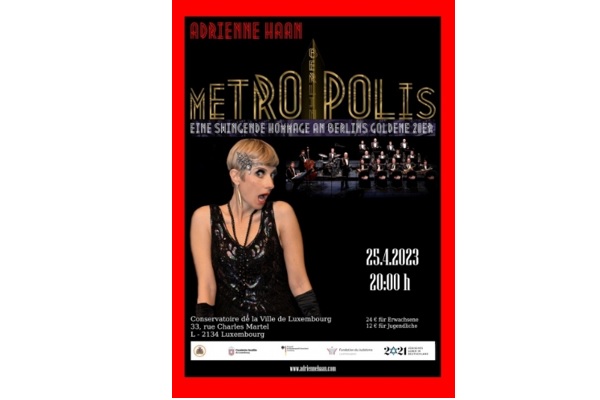 US-based Luxembourgish-German singer and "international chanteuse" Adrienne Haan has announced an upcoming tour of Luxembourg and Germany, featuring five dates.
Having recently returned from residing in Cape Town, South Africa, for three months and performing there and in Angola, she has conformed that she has written two new shows: New York, New York - A Tribute To The Big Apple and a new Musical Gala.
The Musical Gala will be premiered in her German home town of Bonn on 28 March; she will also perform for the first time with the Nuremberg Symphony Orchestra at the "Serenadenhof" in June.
On 10 May she returns to Carnegie Hall and will be part of a new musical reading at the Dramatist Guild NYC called "Final Day" by composer and playwright Danny Curtis at the end of May, portraying a Jewish mother during the Holocaust. Adrienne Hann stated "I am exited to be part of a great and talented cast, playing opposite William Michals who will be portraying my husband and Emily Kate Decker portraying my daughter. Richard Danley is Music Director."
Programme:
18 March: Caberet Francais in Berlin (D)
19 March: Caberet Francais in Magdeburg (D)
22 March: Cabaret Francais in Cologne (D)
28 March: New York, New York in Bonn (D)
25 April @ 20:00: Metropolis Berlin (featuring the Luxembourg Military Big Band) at the Conservatoire de Musique (Luxembourg)
Metropolis Berlin
Adrienne Haan is one of Europe's and America's most electrifying stars and will be featured in a Joseph Barry Production, Voluptuous Weimar-A Tribute to Berlin's Golden Age. Haan's performance celebrates the 100th anniversary of the end of World War I and the beginning of the Weimar Republic with musical selections that characterise Berlin during the 1920s and early 30s as a time of change. The programme under the musical direction of pianist Richard Danley includes Spoliansky's It's All a Swindle, Hollaender's Falling in Love Again, Berlin's Puttin' on the Ritz and Porter's Night and Day.
Haan captivates as she brings to life a Germany suffering from the aftermath of the First World War, with its Kaiser in exile, and beginning to experiment with a new form of government: the Weimar Republic is born and with it a nation longing for latitude. It's Germany's Golden Age, the dance on the volcano between the two World Wars, a time of creativity, art, music and culture, of Brecht and Weill's Threepenny Opera, the making of Fritz Lang's Metropolis, the discovery of Marlene Dietrich starring as the naughty Lola in Joseph von Sternberg's Blue Angel. It is also the time of Josephine Baker and her Charleston music; and the great American swing and jazz that transformed Berlin and other large German cities. Haan re-lives this bodacious period combining all these genres taking you on an enchanting musical voyage through history.
Tickets cost €24 (U26s €12) from https://www.luxembourg-ticket.lu/en/8/eid,61310/metropolis-berlins-goldene-20er.html