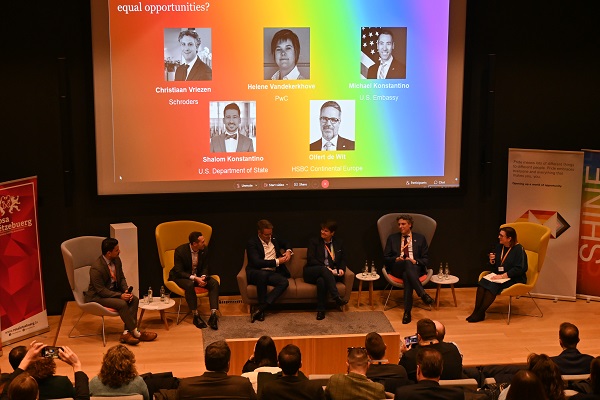 Credit: PwC Luxembourg
On Monday evening, IMS Luxembourg organised a hybrid LGBTQIA+ networking event in collaboration with Rosa Lëtzebuerg, HSBC, JP Morgan, PwC, RBC and Schroders; in-person attendees gathered at PwC Luxembourg's Crystal Park building in the Cloche d'Or district.
The theme of this public event - the first in a series of jointly organised events dedicated to LGBTQIA+ issues - was "Does the corporate façade match the reality for LGBTQIA+ equal opportunities?". The focus was specifically on hiring processes, equal benefits and visibility challenges for the LGBTQIA+ community.
The event, moderated by Mary Carey, Media Relations and Editorial Senior Manager at PwC Luxembourg, kicked off with welcome speeches by the event's senior sponsors: John Parkhouse, CEO of PwC; Emanuele Vignoli, CEO of HSBC; Nirosha Jayawardana, Conducting Officer and Chair of the D&I Committee at Schroders Europe; David Ashworth, Market Manager at JP Morgan Private Bank. The sponsors explained how their respective companies have been addressing the subjects of diversity and inclusion, particularly regarding LGBTQIA+ issues.
John Parkhouse stressed the importance of ensuring that companies "walk the talk" and of setting the right tone at the top. Emanuele Vignoli agreed that change starts from the top and stressed the value in creating the right workplace where everyone can be "their authentic self". David Ashworth praised the role of IMS Luxembourg in the area of corporate social responsibility (CSR) and that of Rosa Lëtzebuerg in raising awareness through events like Luxembourg Pride Week; he hinted at "exciting changes" aimed at levelling the playing field within his organisation, to be announced in the coming weeks. Nirosha Jayawardana described diversity and inclusion as "a continuous journey" that needs to be a key objective of an organisation with support from the top.
The event continued with presentations on Rosa Lëtzebuerg and IMS Luxembourg.
Tom Hecker, President of Rosa Lëtzebuerg, explained how the non-profit, founded in 1996, organises Luxembourg Pride Week each year but also organises workshops and training courses for companies and other awareness-raising activities. Currently, the organisation's biggest project is the "Rainbow Center", a meeting place to enjoy queer culture, which is set to open its doors in Luxembourg city centre on Wednesday 1 February 2023. Tom Hecker emphasised that Rosa Lëtzebuerg "doesn't stand alone", thanks to its many partners and connections in Luxembourg and beyond. Nevertheless, anyone wishing to (further) support Rosa Lëtzebuerg can do so through donations and sponsorship or by volunteering for events such as Luxembourg Pride Week, thus helping to raise awareness. The Rosa Lëtzebuerg President noted that whilst Luxembourg typically ranks among the leading European countries for LGBTQIA+ rights (for example in the Rainbow Map and Index), there is still room for improvement, and stressed the importance of internal visibility within companies.
Priscilia Talbot, Diversity Charter Project Manager at IMS Luxembourg, then presented her organisation, which is Luxembourg's leading CSR network. One major IMS Luxembourg project is the Diversity Charter, a national commitment text that any organisation in Luxembourg can sign, to "commit to diversity promotion and management through concrete actions that go beyond legal obligations." She noted that three years ago, IMS Luxembourg decided to focus on more LGBTQIA+ projects and themes, after realising that a lot of Diversity Charter signatories were not talking about (or did not know how to talk about) this subject. This was an opportunity to share good practices. IMS Luxembourg offers a range of free tools on this subject, publicly available on its website and developed with the help of Rosa Lëtzebuerg, for example addressing the inclusion of the LGBTQIA+ community in companies.
The main part of the evening, the round table, moderated by Lucy Katlan, Senior Manager Depositary and Fiduciary Services at HSBC, brought together five individuals who shared their own experiences in response to the question: "Does the corporate façade match the reality for LGBTQIA+ equal opportunities?". Christiaan Vriezen, Head of Market Services at Schroders, Hélène Vandekerkhove, Senior Manager Audit at PwC, Olfert de Wit, COO at HSBC Continental Europe, Michael Konstantino, Deputy Chief of Mission at US Embassy Luxembourg, and Shalom M Konstantino, Public Affairs Strategist for the US Department of State, each shared their experiences and insights on this subject. There was a consensus among the speakers that Luxembourg was a welcoming place for the LGBTQIA+ community in general and that a lot of progress has been made in recent years. However, it was recalled that homosexuality remains a crime in 69 countries (and some European companies do business or operate in those countries), and improvements can still be made even in Luxembourg. The speakers also emphasised the proven value of diversity for companies and the importance of advocacy, whether in the private sector or in government, as well as working together, sharing best practices and learning from each other in this area.
At the end of the round table, Mary Carey thanked the panellists and moderator, and announced that this joint diversity and inclusion initiative was growing: ING has agreed to join and will host the next event (details to be confirmed).
The event concluded with a Q&A session and a networking cocktail.
Reflecting on the event afterwards, Rosa Lëtzebuerg highlighted on social media that "the real goal of the event was to put a mirror to corporate structures (private and public) to reflect on their LGBTIQ+ inclusive policies (or a lack of such policies)", adding that this first event "only lifted the veil on the underlying problems and discussions".The non-profit concluded: "The overwhelming presence (both physically and online) makes us hopeful that this is indeed taken serious by many people. The under-representation of certain sectors shows that we need to reach out and share experiences. Together we can make a positive change."