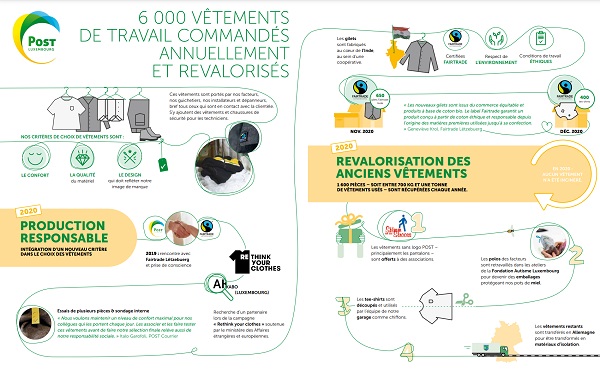 Credit: POST Luxembourg
During a press conference on Thursday, held in the presence of Luxembourg's Minister for Development Cooperation and Humanitarian Affairs, Franz Fayot, and the President of Fairtrade Lëtzebuerg, Jean-Louis Zeien, POST Luxembourg provided an update on its initiative to gradually replace its traditional workwear with Fairtrade certified clothing.
As part of its corporate social responsibility (CSR) approach, POST Luxembourg has been providing its sales advisers with outfits manufactured in compliance with fair production and working conditions. Since November 2020, all employees of the POST Courrier and POST Telecom sales network have been dressed in Fairtrade certified organic cotton T-shirts and jackets.
In 2021, five more items, namely long and short-sleeved shirts and blouses as well as hats, have been added to this collection of Fairtrade certified workwear. In one year, the number of items ordered has therefore increased from 6,000 to 9,000.
With the support of Fairtrade Lëtzebuerg asbl, POST Luxembourg launched an in-depth survey of clothing suppliers at the end of 2019. The Luxembourg-based supplier Akabo was identified as a partner of choice, meeting both fair trade criteria as well as quality and comfort requirements for employees.
"POST's long-term commitment is, on the one hand, to ensure sustainability criteria in our purchases and, on the other hand, to enhance the value of the materials used", Claude Strasser, CEO of POST Luxembourg, explained during the press conference. "Thus, POST is making available its old work clothes in good condition and without a logo to the Stëmm vun der Strooss asbl. Other textile items are upcycled into bags by the Fondation Autisme Luxembourg".
"In terms of fair trade, we need precursors such as POST, because, especially in the workwear segment, there are now certified fair trade alternatives. This is a textbook case, and I would like to see many public and private organisations include the criterion of fair production in their tenders in the textile industry", added Jean-Louis Zeien, President of Fairtrade Lëtzebuerg. "In this area in particular, we need to move away from a 'fast fashion' mentality that comes at the expense of humans and nature".
Minister Franz Fayot concluded: "As Minister for Development Cooperation and Humanitarian Affairs, but also as Minister of the Economy, I congratulate POST for taking the step towards fair trade uniforms. The Luxembourg consumer has an impact on the working conditions of textile producers in low-income countries. POST, the country's largest employer, is showing the way".