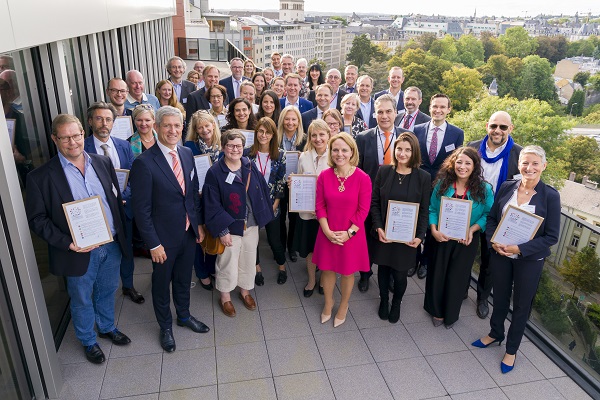 Credit: IMS Luxembourg
On its 11th official signing session on Thursday, chaired by Luxembourg's Minister for Family Affairs, Integration and the Greater Region and patron of the national diversity charter, Corinne Cahen, and the IMS Luxembourg team, the Diversity Charter Lëtzebuerg presented the new characteristics of its structure.
With 26 new signatories and gathering 230 organisations committed to diversity and inclusion, the national charter is evolving and has proposed to structure the commitment of its signatories.
This new approach, built in the spirit of the founding pillars of the Diversity Charter, i.e. the promotion of diversity and inclusion in Luxembourg and the continuous linking of committed private and public actors, is aimed at reinforcing and highlighting the contribution of each signatory through:
Knowledge creation and sharing, notably through autonomous working groups. Four groups have been announced and will start in January 2022: age and intergenerational management, led by Sodexo; gender diversity in Luxembourg, led by ABBL; analysis of LGBTI issues in Luxembourg companies, led by StateStreet; managing long absences, employee return and reintegration, led by PwC. Any signatory organisation wishing to join a working group can register via the Diversity Charter website. Applications are open until 30 November 2021.
The introduction of three new statuses (starter, advanced and ambassador), allowing each signatory to situate its progress in diversity and inclusion and to measure its contributions. Each status offers new benefits, new opportunities and new ways of working together, while encouraging innovation in the implementation of its actions.
More opportunities for visibility at both the national and European level. This new structure aims to highlight the actions undertaken by each signatory through various media such as the charter's digital communications, events or publications, depending on their status.
A new brochure presenting the Diversity Charter Lëtzebuerg is available at https://chartediversite.lu/en/publications.
New signatory organisations:
Allagi
Alpha FMC Luxembourg
Alter Domus
Autocars Emile Frisch
Badenoch + Clark
Beautiful Green
Beng Architectes Associés
Bonn Steichen & Partners (BSP)
Cargolux Airlines International
CONCEPT FACTORY S.A.
European Court of Auditors (ECA)
Fondation Lëtzebuerger Blannevereenegung
HACA Partners
ILA
innov'ICTion
Innpact S.A.
Innpact Funds Management
Institut Luxembourgeois de la Qualité de Vie au Travail
IQ EQ
IQ Solutions
Luxembourg Institute of Science and Technology (LIST)
M&G International Investments S.A
Nhood
Regis TR
Sogeti
Taleo Consulting