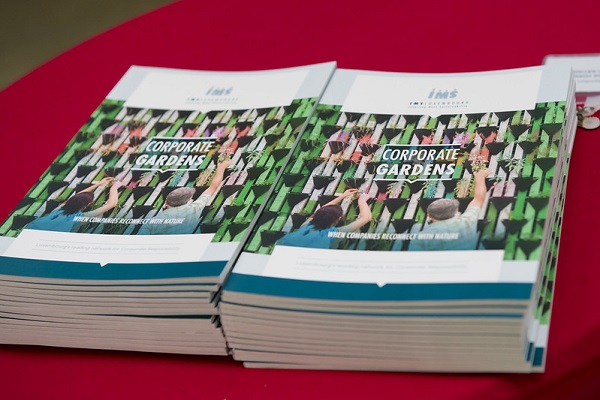 IMS (Inspiring More Sustainability) Luxembourg has announced the publication of its new "Corporate Gardens" guide, aimed at making its members aware of the benefits of corporate gardening for companies, employees and the environment.
On Tuesday, the IMS presented its new guide in front of some 40 representatives of the worlds of business, education, Luxembourgish municipalities and European administrations at the premises of the Institut de Formation Sectoriel du Bâtiment (IFSB) in Bettembourg.
In addition to its awareness-raising nature, the guide offers a range of good practices to help companies "reconnect with nature". Indeed, corporate gardening forms part of the increasingly popular concept of urban agriculture, an area in which Luxembourg is attempting to position itself as a pioneer by adopting a national strategy dedicated to urban farming.
IMS explained that corporate gardening is the application of urban farming to companies. By encompassing circular and sustainable values, corporate gardening is considered an innovative solution to rethinking the workplace, promoting well-being and reducing a company's carbon footprint. The corporate garden is based on the idea that humans are attracted by nature and living things.
As co-editor of the national strategy, IMS considered it important to raise awareness among its member organisations of the practice of urban agriculture in general and corporate gardening in particular. Hence its decision to write and present the "Corporate Gardens" guide.
On the occasion of its presentation, Laurent Zeimet, Mayor of Bettembourg, Loris Spina, first alderman of Dudelange, and Bruno Renders, CEO of the Conseil pour le Développement Economique de la Construction (CDEC), took the stage to present and exchange their experiences in this field. Following IMS' presentation of the guide itself, the conference ended with a visit to the 60 m2 greenhouse on the roof of the IFSB, a key player in sustainable construction in Luxembourg.
In addition to the publication of the guide, IMS Luxembourg expressed its hopes to set up inter-company working groups on the subject in 2020 to launch pilot projects.