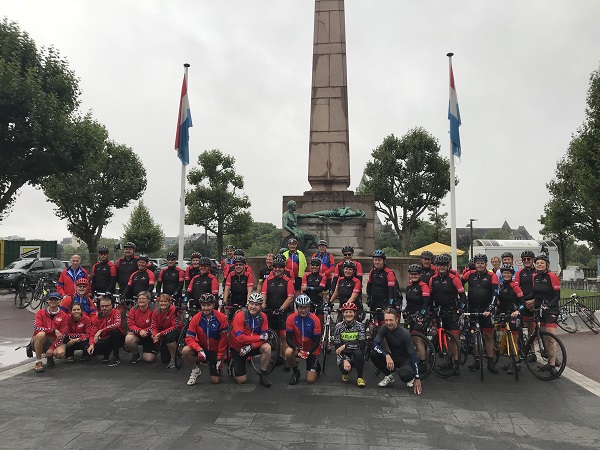 Danish Heart;
On Sunday morning, a group of 24 Danish cyclists, accompanied through the Grand Duchy by a group of almost a dozen Luxembourg cyclists, departed from the Place de la Constitution in Luxembourg-ville for Slagelse in Denmark, located between Odense and Copenhagen, their home town.
The trip is around 1,000km and is expected to take the 24 riders, a race marshall and two service vehicles one week to complete.
The Danish charity cyclists (known as the Heart Riders) are cycling in aid of the Danish Heart Association. The Heart Riders (Hjerterytterne) is the cycling team of the Danish Heart Association. The riders are raising awareness and funds for the Danish Heart Association and the Childrens Heart Foundation. These are non-profit organisations committed to raising funds for research and prevention and support for children and adults suffering from heart diseases.
The Luxembourg-based cycling group Association Luxembourgeoise des Groupes Sportifs pour Cardiaques (ALGSC) supported the Danish Heart Riders by showing solidarity with them by accompanying them as they made their way through Luxembourg.
Route:
Luxembourg-ville - Dubuy (BE), 140km
Durbuy - Monchengladbach (DE), 163km
Monchengladbach - Rheine (DE), 163km
Rheine - Bremen (DE), 149km
Bremen - Neumunster (DE), 167km
Neumunster - Fynshav (DK), 157km
Fynshav - Faaborg (DK), by sea
Faaborg - Nyborg (DK), 51km
Nyborg - Korsor (DK), by train
Korsor - Slagelse (DK), 20km
Last year, the first time that the Heart Riders undertook such a challenge, they started out from Prague in the Czech Republic. This year they chose to start in Luxembourg.
The six teams in Denmark are sponsored by companies both nationally and locally, with seven national companies sponsoring all clothing this year. The teams have organise their own sponsorship of fuel for the service cars, food and beverages and also kilometre ridden for individual cyclists. Each cyclist needs to pay circa €300 for membership and are supposed to ride at least 2,500 km per season and must provide their own bicycles. The Heart Cyclists arrived by bus into the Grand Duchy.
Tine Christiansen, a Danish national who has been resident in Luxembourg for 25 years, along with the Danish Club of Luxembourg, organised Sunday morning's "le Grand Départ" from the Place de la Constitution.