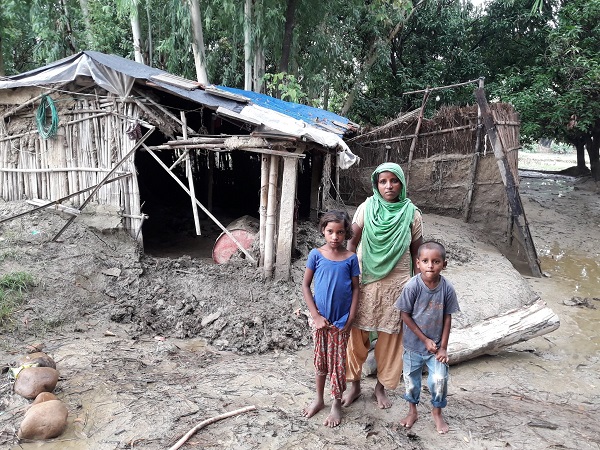 Nepalese flood victims;
The Luxembourg-based charity "Aide à l'Enfance de l'Inde et du Népal" (AEIN) has issued an appeal for victims of recent severe flooding in Nepal.
Continuous rainfall since 11 July 2019 has resulted in heavy flooding and landslides in different parts of Nepal. The Situation Report from Nepal's Ministry of Home Affairs (MoHA) has reported more than 100 deaths and 41 injured. A total of 29 people are missing, presumed to have been washed away by swollen rivers or buried under landslides.
The heavy rainfall has also caused extensive damage, amounting to millions of Euros, to houses, livestock and public property. As at 18 July 2019, an estimated 36,728 households are reported to have been affected by this disaster. This number is expected to rise as rescue efforts progress and landslide affected areas are made accessible again.
AEIN's local partner, the Women's Rehabilitation Center (WOREC), has been providing emergency relief from day one in two of the worst hit provinces and is supporting victims of this natural disaster in coordination with local authorities, by rescuing people, providing relief materials and safe shelters. The situation on the ground is still critical and, as always, the most affected people are the most vulnerable. WOREC is also significantly involved in the sharing of regular updates on the extent of the floods and its damages with government bodies and other protection agencies, an essential aid to the rescue process.
Therefore, the AEIN decided to make a call for donations to help the flood victims. Funds will be used towards providing women and children with clothing, food, toiletries and other living essentials. Additionally, victims will be also rehabilitated by AEIN through the setting up of women and child-friendly shelters, counselling services and health check-ups.
"Along with our partner WOREC, we aim to continue rescue and rehabilitation efforts and support the highest-risk victims", said Françoise Binsfeld, Executive Director at AEIN. Even a small amount from you can go a long way for the victim.
Donations can be tax-deductible and can be made to: IBAN LU03 1111 0367 5084 0000 (CCPL), or IBAN LU03 1111 0367 5084 0000 (CCPL)

For further details, see www.aein.lu