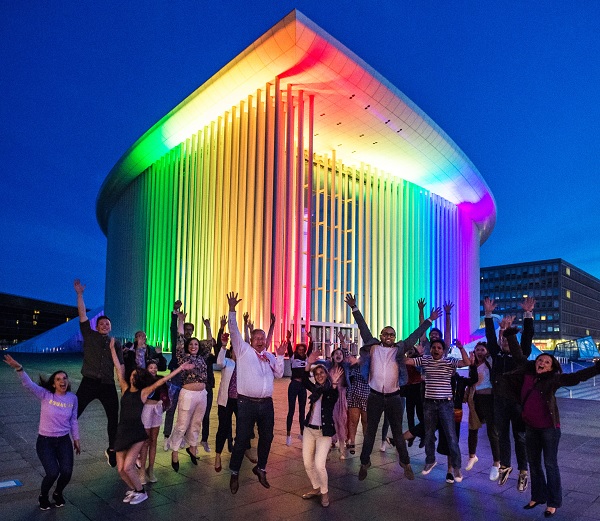 For the first time, Luxembourg's iconic Philharmonie has been lit up with neon rainbow lights following the close of Luxembourg's Pride week.
The projection of the rainbow flag on the Philharmonie is part of Vodafone's continued support and commitment to its LGBT+ employees across the globe and their support for the local Luxembourg community. Vodafone has a strong agenda around creating a culture where employees can be open about their sexual orientation and gender identity.
Here in Luxembourg, Vodafone's global hub for procurement has launched Global Partners with Pride. This initiative is designed to drive an LGBT+ agenda through active collaboration with their extensive international network of partners and suppliers.
In the last 12-months Vodafone has launched a number of key initiatives including a global 'buddying' programme for LGBT+ graduates, and targeted induction and leadership training programmes to support, retain and help attract LGBT+ employees.
This week Vodafone was one of Stonewall's Top Global Employers for LGBT+ for the third consecutive year, gaining special recognition for its global ally programme that champions inclusivity and diversity. Vodafone's extensive agenda around LGBT+, and more broadly diversity and inclusion, is built on the belief that employees are at their best when they are their true selves at work.
Ninian Wilson, the Global Executive Sponsor for LGBT+, stated "As a global technology company, Vodafone believes it is important that we take a positive stance against discrimination and violence towards the LGBT+ community and show our support to our LGBT+ employees around the world. Pride is about celebrating the vibrancy of this community and enables us to reinforce our commitment to diversity, inclusion and the ongoing dialogue of acceptance."
Stephan Gehmacher, Director General Philharmonie Luxembourg, stated "The management team of Philharmonie Luxembourg is committed to guarantee the respect and promotion of diversity in our institution and we welcome Vodafone's initiative to illuminate the building in order to promote diversity in Luxembourg and in the rest of the world!"