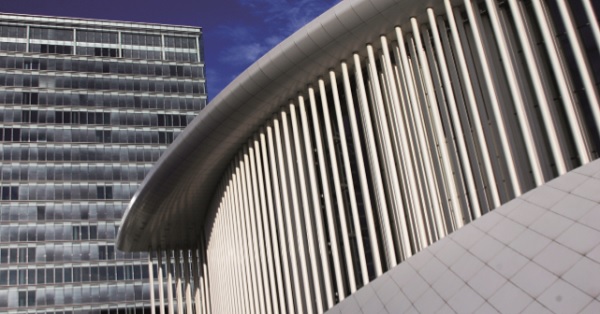 Banque Raiffeisen has held a special conference at the Philharmonie in Luxembourg-Kirchberg which was on the theme of Sustainable Investing, where Guy Hoffmann (Chairman) and Georg Joucken (Head of Private Banking) discussed sustainability, with the Swiss Bank Vontobel as event partner.
Frank Häusler, Vontobel's Chief Strategist gave an outlook on the development of the financial markets and explained the role of sustainable investments in Vontobel's investment strategy.
Sustainability today means a lot and is no longer limited to the environment. ESG stands for "Environment, Social and Governance" and, in order to be able to put these three dimensions into reality, the private sector is required in addition to state institutions. In particular, banks must make their contribution to this mammoth task.
From the conference, Banque Raiffeisen is well positioned to meet the challenges, partly because sustainability has always been anchored in the DNA of the Cooperative bank. Banque Raiffeisen, unlike other banks, is not focused on maximising profits, and the bank works primarily in the interests of its clients and members, who can benefit from numerous benefits through the OPERA and OPERA PLUS offerings.
Banque Raiffeisen wants to offer its customers products that go in the direction of sustainability and, in this sense, offers them the opportunity to invest their money sustainably.
Sustainable investments are aimed at people who, while investing, do not just want to build wealth, but also want to make a decisive contribution to a more responsible future and thus lay the foundation for sustainable development.
Banque Raiffeisen works primarily with its long-standing partner Vontobel for its investment funds and structured investment products. Vontobel is an acknowledged expert in sustainable investing and was rated "Prime" by ISS-Oekom, the leading rating agency for sustainable development and investment.
Furthermore, Banque Raiffeisen offers its clients excellent investment funds with the internationally recognized label LuxFLAG.
The ESG label developed by LuxFLAG (Luxembourg's Finance Labeling Agency) promotes the transparency of sustainable investments in economic, social and ecological respect. Customers can also select from LuxFLAG ESG-certified funds selected based on the "Best Of" selection process.
The ESG offer of Banque Raiffeisen includes:
R-GESTION - DIRECTIVE SUSTAINABLE: This is discretionary asset management with investment funds that have positive environmental or social implications. After the mandate, the customers are looked after by their personal investment advisor and enjoy the benefit of numerous benefits.
R-CONSEIL / R-INVEST: Banque Raiffeisen works closely with its partners in asset management to offer its clients a selection of ESG funds of the highest quality. Banque Raiffeisen also offers structured products that meet the ESG criteria and are certified with the "ACT ESG" label from Vontobel. In addition, there is a selection of green bonds available to clients.
For Banque Raiffeisen, it is of course a positive contribution for the well-being of their customers and members and sustainability.