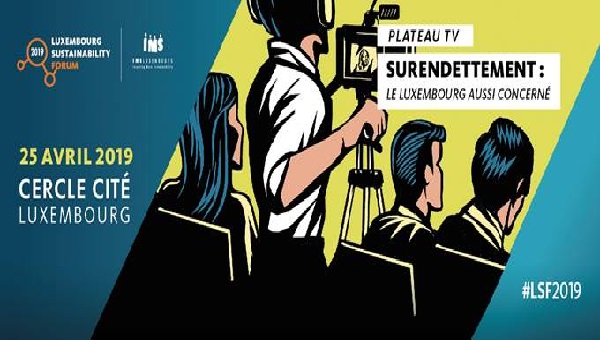 Credit: IMS Luxembourg
The IMS has unveiled another part of the programme for this year's Luxembourg Sustainability Forum: a TV studio set on over-indebtedness on 25 April 2019 in the Auditorium of Cercle Cité, from 17:00 - 18:00.
This forum will shed light on this major social issue that is on the agenda of corporate social responsibility (CSR). Over-indebtedness is seldom discussed in Luxembourg, despite its human and economic consequences. The IMS thus aims for this forum to discuss ways in which organisations can approach the subject as part of their CSR policy.
In a session moderated by economist Sarah Mellouet (Fondation Idea a.s.b.l.), different figures working in this field in Luxembourg will come together to discuss the over-indebtedness of individuals. These include: Danièle Berna-Ost, Secretary general of CSSF; Catherine Bourin, Member of the Executive Committee of ABBL; Stéphanie Damgé, Director of Jonk Entrepreneuren; Anne-Catherine Guio, Researcher at LISER; Nancy Marinelli, Social Assistant at ArcelorMittal; Maxime Pekkip, Administrator at Fondation Crésus; Pascal Recchia, Head of Quality of Life at Work Department at POST Luxembourg; Monique Rodesch, Member of the Executive Board of Ligue Médico-Sociale; Nancy Thomas, Director of IMS Luxembourg; Emma Waldron, Jurist at the Ministry of Family.
The session will be held in French with simultaneous translations into English provided in the main room.
The forum is open to everyone, free of charge, but registration is required at http://imslux.lu/fra/agenda/125_luxembourg-sustainability-forum-2019.