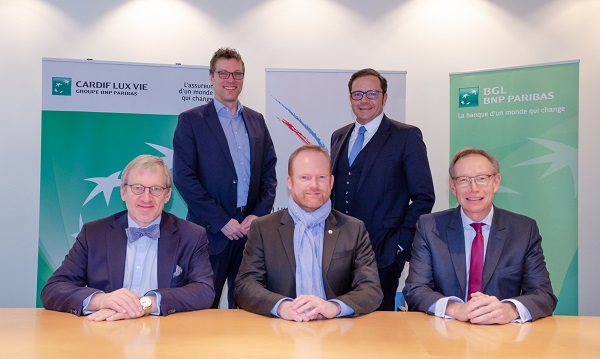 BGL BNP Paribas, Cardif Lux Vie sign partnership with FLT;
On Tuesday 22 January 2019, BGL BNP Paribas, Cardif Lux Vie and the Luxembourg Tennis Federation (FLT – Fédération Luxembourgeoise du Tennis) signed a two-year extension to their partnership.
The signing ceremony was held in the presence of Geoffroy Bazin, Country Head of the BNP Paribas Group and Chairman of the BGL BNP Paribas Executive Committee, Thierry Schuman, member of the BGL BNP Paribas Executive Committee, Charles Degen, member of the Cardif Lux Vie Executive Committee, Claude Lamberty, Chairman of the Luxembourg Tennis Federation, and Markus Stegmann, Treasurer of the Luxembourg Tennis Federation.
"We are delighted to reaffirm our support for the Luxembourg Tennis Federation. This partnership, which began four years ago, fully reflects the fair play values that are dear to Cardif Lux Vie, and underlines our company's growing involvement in developing the country's sport landscape", said Charles Degen.
Claude Lamberty added, "We are especially pleased to be renewing our partnership with BGL BNP Paribas and Cardif Lux Vie, whose loyalty towards the Luxembourg Tennis Federation is a magnificent statement of trust."
On signing the deal, Geoffroy Bazin pointed out that "BGL BNP Paribas has been supporting tennis in Luxembourg for many years. As a responsible company, our bank wishes to play an active role in the country's social, cultural and sporting life. The renewal of this partnership until the end of 2020 is just one of many initiatives undertaken by the BNP Paribas Group in Luxembourg to uphold its commitment and role in society. This sponsorship also reflects the BNP Paribas Group's long-standing involvement as the number-one world-class tennis sponsor".
The Fédération Luxembourgeoise de Tennis (FLT) has 51 affiliated clubs, 260 courts, 4,750 A licence holders and 16,000 active players. It also represents Luxembourg by sending teams to international events (Davis Cup, Fed Cup, Olympics, etc.) and organising ITF tournaments.