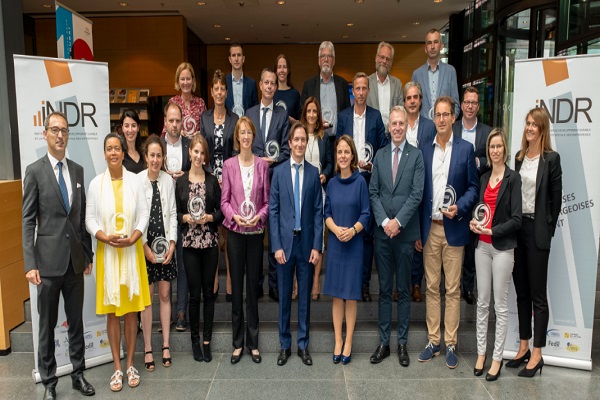 Credit: INDR
The 15th ceremony of the official presentation of the ESR label "Entreprise Socialement Responsable", held yesterday at the Luxembourg Chamber of Commerce, saw 23 companies receive the label.
On the occasion of yesterday's ESR label award ceremony, organised by the INDR, the label was officially awarded to 23 companies that have successfully met the criteria of the INDR labeling process. All-in-all Luxembourg is home to over 150 ESR-labeled companies, which actively contribute to Sustainable Development Goals (SDGs).
For the first time, a public administration, INAP, has obtained the ESR label. Among the other newly labeled companies were small businesses and highly innovative start-ups offering specific solutions and services that contribute to sustainable development.
Deemed a vital issue by the European Commission, Corporate Social Responsibility (CSR) is becoming a key strategic tool for business leaders. CSR is an opportunity for every company to improve its governance, strengthen its societal commitment and limit its environmental impacts. The company thus ensures its own sustainability while contributing to sustainable development.
Companies with the ESR label have understood the benefits of CSR. This year's seven newly labeled companies were: Apleona HSG s.r.; CESAP SA; CIPA Residence Op der Waassertrap; National Institute of Public Administration; klin; Maâ-Yes!; XPERTIZ S.A. The following 16 companies were re-awarded the label after a successful first certification period of 3 years: ABBL; Aviva Investors Luxembourg; Banque et Caisse d'Epargne de l'Etat, Luxembourg; CK s.a.; Dussmann Group Luxembourg; Dussmann Catering; Dussmann Lavador; Dussmann Security; Dussmann Service; Groupe NPE; Nouvelles Perspectives Emploi Sàrl; Perspectives Emploi Asbl; MindForest S.A.; Ministère de l'Économie; ProNewTech S.A.; Steffen Holzbau S.A.
Corinne Cahen, Minister of Family, Integration and the Greater Region, was present at the ceremony to congratulate the winners who, by obtaining the ESR label, inspire other companies to follow the same commitment.