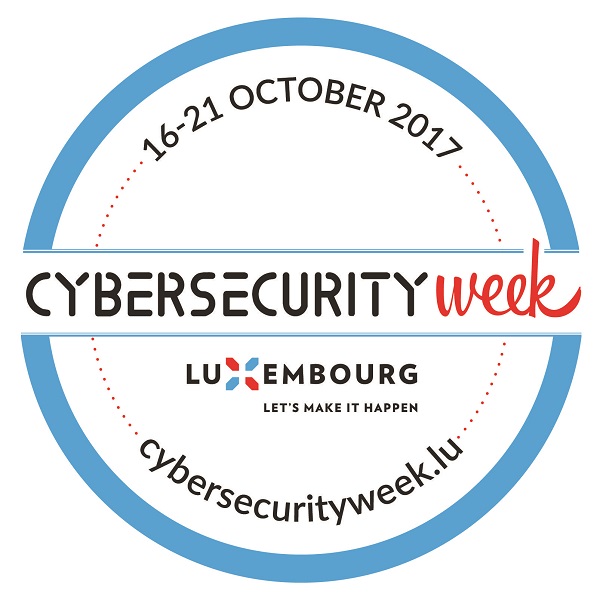 Details:
 From 16-21 October 2017, Luxembourg will host its first Cybersecurity week, with a number of activities scheduled; this is taking place during the European Cyber Security Month (ECSM).
Cybersecurity is among the greatest challenges of the digital economy, increasingly emerging every day as a field with high potential in terms of new skills, jobs and growth. The Grand Duchy has been considering this area as an opportunity for economic growth for over 15 years, a view further highlighted in the governmental Digital Lëtzebuerg initiative, as well as the announcement, in October 2016, of a competence centre on cybersecurity. Building on this momentum, five players are joining forces to create the Cybersecurity Week in Luxembourg.
ECSM is the EU's annual advocacy campaign that takes place in October and aims to raise awareness of cyber security threats, promote cyber security among citizens and provide up to date security information, through education and sharing of good practices.
PROGRAMME
Monday 16 Oct 2017
- Le nouveau GDPR Consumer protection and data protection, by the Commission Nationale pour la Protection des Données (CNDP) @ the Maison du Savoir in Esch-Belval
- MISP Summit, by CIRCL @ Parc Alvisse Hotel in Luxembourg-Dommeldange
Tuesday 17 Oct 2017
- Hack4Kids (skills, education, jobs), by SECURITYMADEIN.LU @ PwC Luxembourg, Cloche d'Or
- Digital Talent Day (skills, education, jobs), by LIDIT @ PwC Luxembourg, Cloche d'Or
- Cybersecurity4Success "To Navigate Safe and Sound Across the digital World!", by the Chambre de commerce, the Ec Representation in Luxembourg, House of Training, SECURITYMADEIN.LU, and the Confédération Luxembourgeoise de Commerce @ the Chambre des Métiers in Luxembourg-Kirchberg
- 13th Hack.lu Day 1, by SECURITYMADEIN.LU @ Parc Alvisse Hotel in Luxembourg-Dommeldange
Wednesday 18 October 2017
- 13th Hack.lu Day 2, by SECURITYMADEIN.LU @ Parc Alvisse Hotel in Luxembourg-Dommeldange
Thursday 19 October 2017
- PwC Cybersecurity Day, by PwC @ PwC Luxembourg, Cloche d'Or. The PwC Cybersecurity Day will offer attendees a unique opportunity to gain insights from the latest global developments in cybersecurity. They will be welcoming distinguished speakers from all over the world, representing a rich panel of thought leaders. They will share the stage with fast growing technology companies, engaging in a pitch competition, that will present how they meet cyber security challenges with next-generation solutions. The event will also cover the findings of the 2018 Global State of Information Security Survey, where they will discuss how it applies to relevant markets in Europe. Attendees will also be able to participate in business matchmaking, join interactive breakout sessions and take part in a networking forum with your peers and industry leader.
- Open Source Security Software Hackathon Day 1 (hacking, coding, jobs), by SECURITYMADEIN.lu @ Parc Alvisse Hotel in Luxembourg-Dommeldange
- 13th Hack.lu Day 3, by SECURITYMADEIN.LU @ Parc Alvisse Hotel in Luxembourg-Dommeldange
Friday 20 October 2017
- Open Source Security Software Hackathon Day 2 (hacking, coding, jobs), by SECURITYMADEIN.lu @ Parc Alvisse Hotel in Luxembourg-Dommeldange
- SecDevOps Day, by Excellium University @ Domaine Thermal Mondorf in Mondorf-les-Bains
- Cybersecurity Week Luxembourg Gala Dinner & Awards Night @ Exit07, Rotondes in Luxembourg-Bonnevoie
Venue see above for specific details
Organiser Cybersecurity Week Luxembourg
Price see website
Reservations see website
URL For details, see www.cybersecurityweek.lu
Info  
Price: 0
Reservations: 0